Wag: The Science of Making Your Dog Happy (Paperback)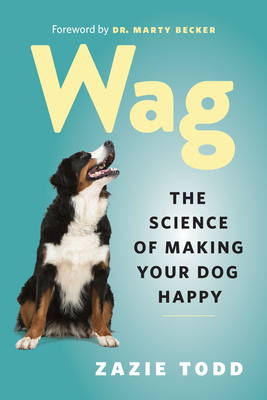 Description
---
As seen in The New York Times - People - SLATE - Psychology Today
" A] must-have guide to improving your dog's life."--Modern Dog Magazine
Whether you are training a new puppy, considering adopting a dog, researching dog breeds, or simply curious about your own dog's happiness and behavior, Wag has all the answers--and then some. Respected dog trainer and social psychologist, Zazie Todd, demystifies the inner life of canines and shares recommendations from leading veterinarians, researchers, and trainers to help you cultivate a rewarding and respectful relationship with your dog--which offers many benefits for you, your family, and your four-legged friend
Inside this engaging, practical book, readers will find:
A Check List for a Happy Dog
Enrichment exercises
How to socialize and train a new puppy
How to reduce fear and anxiety in dogs
Tips for visiting the vet
Information on aging dogs
Expert interviews with vets and psychologists
And so much more
"Dog owners and those considering becoming one should appreciate Todd's substantial insight into how dogs and humans relate to one another"
--Publishers Weekly
About the Author
---
Zazie Todd is a social psychologist, certified dog trainer, and founder of the popular blog Companion Animal Psychology, where she writes about everything from training methods to the human-canine relationship. She also writes a column for Psychology Today and has received the prestigious Captain Haggerty Award for Best Training Article in 2017. Todd lives in Maple Ridge, BC, with her husband, one dog, and two cats.Dr. Marty Becker-also known as America's Veterinarian-is the author of multiple New York Times bestsellers and serves on the Board of Directors and as Chief Veterinary Correspondent for the American Humane Society.
Upcoming Events
No upcoming events available