The Hidden Language of Cats: How They Have Us at Meow (Hardcover)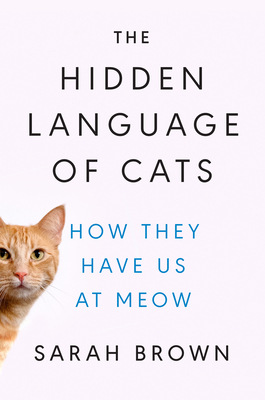 $28.00

Usually Ships in 1-5 Days
Description
---
Descended from shy, solitary North African wild cats, domestic cats set up homes with devoted owners all over the world by learning how to talk to us. This book translates—in case you missed anything.

A renowned cat behavior scientist of over thirty years, Dr. Sarah Brown has been at the forefront of research in the field, discovering how cats use tail signals to interact with each other and their owners. Now, she reveals the previously unexplored secrets of cat communication in a book that is both scientifically grounded and utterly delightful.

Each chapter dives into a different form of communication, including vocalizations, tail signals, scents, rubbing, and ear movements. The iconic meow, for example, is rarely used between adult cats—cleverly mimicking the cries of a human infant, the meow is a feline invention for conversing with people. Through observing the behavior of two cat colonies in rural England, readers will also have the opportunity to glimpse into the lives of some of the cats behind Dr. Brown's science.

Can we understand what cats' meows and other signals mean? How do cats actually perceive us? And how can we use this information to inform how we talk back to our feline friends? Referencing historical records, exploring modern scientific studies of cat-human communication, and including simple, elegant line drawings, The Hidden Language of Cats is perfect for any cat lover who wants to learn more about their companion.
About the Author
---
Sarah Brown gained her PhD on the social behavior of neutered domestic cats while working at the Anthrozoology Institute at the University of Southampton in the United Kingdom. She has since worked as an independent cat behavior counselor, as a consultant for the cat-toy industry, and has conducted research for and worked with several UK animal charities. She authored The Cat: A Natural and Cultural History, which has been published in three languages; cowrote The Behaviour of the Domestic Cat, 2nd edition; and contributed to The Domestic Cat: The Biology of Its Behaviour, 3rd edition. Sarah lives in London, England, with her family, her dog, and her cats.
Praise For…
---
"The Hidden Language of Cats is full of such striking facts.... As a self-proclaimed cat lover, Ms. Brown is keen to smash certain stereotypes....[and] she is determined to celebrate the domestic cat's achievements."
—The Wall Street Journal

"A fascinating compendium of scientific information about our furry friends' modes of communication interwoven with anecdotes from Brown's 30 years of fieldwork (plus her own cats' hijinks at home). "Just like people," Brown notes, "cats have complex personalities." Whimsical line drawings by Brown's daughter Hettie add to the fun of this informative, accessible guide to what cats are telling us, whether through tail twitches, meows or exceedingly slow blinking."
—BookPage

"The history enlightens and the science provides robust insight why felines do what they do. Cat lovers will want to add this to their shelf."
—Publishers Weekly

"[Brown] approaches her study of domestic cats from a scientific perspective, offering her firsthand observations and analysis of recent research studies in a writing style that is easily comprehendible and captivating.... With her lighthearted yet authoritative approach, Brown helps us better understand our feline companions."
—Kirkus

"At last, a brilliant voice to give cats the recognition they deserve. From feral cats outside an asylum, to pampered mother cats giving birth in the warmth and safety of a home, Dr. Brown studies her subjects with a fascination and delight that is contagious. Tracing our relationship with cats all the way back to the Fertile Crescent, The Hidden Language of Cats solves the mystery of how their solitary predatory ancestors came to be such an important part of our lives. The best book you will read this year."
—Brian Hare and Vanessa Woods, New York Times bestselling authors of The Genius of Dogs

"Cat advocates sometimes call themselves "the voice of the voiceless," but the truth is cats express themselves very clearly; we just have to know how to listen. The Hidden Language of Cats decodes the underlying meaning behind the wide variety of ways cats communicate with us, each other, and the world around them, empowering readers to better understand and advocate for them. This deep dive into cat language is a must have for any animal rescuer or guardian who wants to increase their feline fluency!"
—Hannah "Kitten Lady" Shaw, bestselling author of Tiny But Mighty and founder of Orphan Kitten Club

"Sarah Brown knows cats. A fascinating blend of real-life stories and science informed by her deep expertise, this book will both entertain and inform any cat-lover."
—John Bradshaw, New York Times bestselling author of The Trainable Cat and Cat Sense

"Purrs, hisses, meows, scents, scratches, ear tilts, tail flicks, and head butts. Cats are wonderfully expressive across a variety of modalities, even if their meaning isn't always clear to us. Sarah Brown's delightful book will help you better understand what our feline friends are trying to say, while appreciating how much remains mysterious."
—Sean Carroll, Homewood Professor of Natural Philosophy at Johns Hopkins and New York Times bestselling author of The Biggest Ideas in the Universe
 
"Every cat lover wishes they could understand what their cat is thinking: This book will help you do just that! Sarah Brown provides the reader with a highly-entertaining and evidence-based guide to how cats communicate and how to have a better relationship with the cat in your life. Every house cat wishes their owner would read this book!"
—Dr. Mikel Delgado, PhD, Certified Applied Animal Behaviorist and coauthor of Total Cat Mojo