Battle Born: Lapis Lazuli (Hardcover)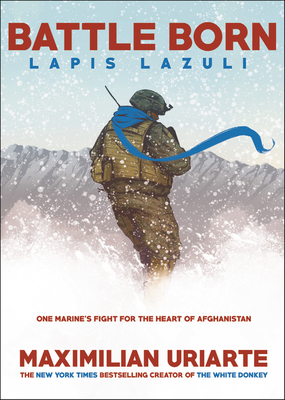 $28.00

Usually Ships in 1-5 Days
Description
---
From the bestselling author of The White Donkey, a heartbreaking and visceral graphic novel set against the stark beauty of Afghanistan's mountain villages that examines prejudice and the military remnants of colonialism.
In this hotly anticipatednew work from Maximilian Uriarte, creator of the popular Terminal Lance comics and The White Donkey, tells a "thrillingly cinematic" (Publishers Weekly) story of the personal cost of war and the power of human connection.
Lapis Lazuli is a rich blue semiprecious gemstone found deep in the Sar-i-sang mountains of Afghanistan's Badakhshan province. For thousands of years it has sustained the nearby mining villages, whose inhabitants lived peacefully in the mountainous landscape--until the Taliban, known in the region as the Horsemen, came to seek the riches stored deep beneath the earth. Taliban rule has turned the stone into a conflict mineral, as they steal and sell it for their own gain.
At the behest of the fledgling Afghan government, seeking to wrest back control of the province, United States Marines are sent into the mountains. A platoon led by their eager and naive commander, First Lieutenant Roberts, and a stoic, fierce squad leader, Sergeant King, must overcome barriers of language and culture in this remote region to win the locals' trust, and their freedom from Taliban rule. Along the way, they must also wrestle with their demons--and face unimaginably difficult choices.
A sweeping yet intimate story about brutality, kindness, and the remnants of colonialism, Battle Born: Lapis Lazuli is an epic saga from the voice of a new generation of military veterans.

About the Author
---
Battle Born was written and illustrated by infantry Marine and Iraq veteran Maximilian Uriarte, creator of the hit comic strip Terminal Lance. Uriarte enlisted in the United States Marine Corps in 2006 at the age of nineteen and served for four years. During his first deployment to Iraq in 2007 he served as an MRAP turret gunner and dismount of India Company's "Jump" platoon in the Zaidon region southeast of Fallujah. He deployed to Iraq again in 2009 as a billeted Combat Photographer and Combat Artist, then enrolling in California College of the Arts. He is the New York Times bestselling author of The White Donkey and the Terminal Lance Ultimate Omnibus.
Praise For…
---
The vast landscapes rendered with vibrant colors bring the reader into the snow-capped mountains in Afghanistan's Badakhshan Province, while rhythmic textures of earth and flesh keep you there. Themes of heartbreak and racism weave through the narrative, creating a very somber contrast to Uriarte's more irreverent narratives of the infamous enlisted Marine.—New York Times Magazine

Uriarte's manga-derived graphic chops and storytelling technique have grown immensely since The White Donkey; his deliberate pacing, especially in the book's final sequences, is daringly bold. But the combat-based verisimilitude he brings... is its strongest element.—Gordon Flagg, Booklist

Uriarte's illustrations are lush and vivid, with an appealing manga-tinted realism...The effect is sumptuously cinematic with the depth of an action movie.—Kirkus

...The story works best as a tragic meditation on the value of honor and justice in a world ruled by violence.—Library Journal

An epic saga from the voice of a new generation of military veterans about kindness, brutality, and the remains of colonialism.—Veterans Today

Thrillingly cinematic…This visceral war story reinforces the difficulty of decisions by forces fighting across blurred lines.—Publishers Weekly

The vast landscapes rendered with vibrant colors bring the reader into the snow-capped mountains in Afghanistan's Badakhshan Province, while rhythmic textures of earth and flesh keep you there. Themes of heartbreak and racism weave through the narrative, creating a very somber contrast to Uriarte's more irreverent narratives of the infamous enlisted Marine.—Josh Terry, New York Times Magazine

Uriarte uniquely tackles the difficulty of being a Marine and serving in the military with raw honesty and creativity through all of his work...Battle Born: Lapis Lazuli is a deeply compelling compilation of the human experiences that affect us all.—We Are the Mighty