Writer to Writer: From Think to Ink (Paperback)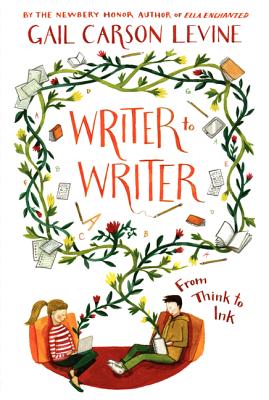 Description
---
Bestselling author of Ella Enchanted and fairy-tale master Gail Carson Levine shares her secrets of great writing in this companion to the popular Writing Magic.
Have you ever wanted to captivate readers with a great opening, create spectacular and fantastical creatures, make up an entire country, realize a dastardly villain, write an epic love story, or make your characters leap off the page? If you answered yes to any of these questions, Gail Carson Levine can help you achieve your goals.
Newbery Honor author Gail Carson Levine offers a behind-the-scenes take on writing and teaches you how to become a world-class author. Drawing from her popular blog, Gail answers readers' fiction- and poetry-writing questions and dives into how to make a story come alive. If you're interested in writing prose and poetry or just want to be a better and more rounded writer, this book will help you on your creative journey.
With her trademark humor and vast writing knowledge, Gail Carson Levine reveals the tricks of her trade, writer to writer.
Supports the Common Core State Standards
About the Author
---
Gail Carson Levine's first book for children, Ella Enchanted, was a Newbery Honor Book. Levine's other books include Ever, a New York Times bestseller; Fairest, a Best Book of the Year for Publishers Weekly and School Library Journal, and a New York Times bestseller; Dave at Night, an ALA Notable Book and Best Book for Young Adults; The Wish; The Two Princesses of Bamarre; A Tale of Two Castles; and the six Princess Tales books. She is also the author of the nonfiction books Writing Magic: Creating Stories That Fly and Writer to Writer: From Think to Ink, as well as the picture books Betsy Who Cried Wolf and Betsy Red Hoodie. Gail Carson Levine and her husband, David, live in a two-centuries-old farmhouse in the Hudson Valley of New York State.
Praise For…
---
Each chapter ends with appealing and doable exercises. Levine urges her audience to cast away self-criticism and to write and rewrite, underscoring that this is an enjoyable, important process. An engaging and valuable addition. — School Library Journal (starred review)
"The snippets themselves are marvelously diverse, opening the possibilities for writing in a multitude of genres. By the end of the book, if a reader has faithfully followed her instruction, he or she will be well on the way to becoming a writer." — Bulletin of the Center for Children's Books
Praise for Writing Magic — :
"What comes through on every page is Levine's passion for craft. Aspiring writers of all ages can dip in and out of this book, which has the clarity and sparseness of Anne Lamott's Bird by Bird." — Publishers Weekly
"Levine is a friendly mentor in these pages." — Voice of Youth Advocates (VOYA)
"A veritable treasure trove of advice and guidance for writers across a range of ages." — Bulletin of the Center for Children's Books
"A well-meaning and friendly resource that may well save young writers much time and distress and, perhaps, lead to success in getting published. — Kirkus Reviews
"Have fun, and save what you write!" Those words close out nearly every chapter of this valuable writing guide... Questions from visitors to Levine's blog are used as springboards, and Levine is generous in sharing her struggles, tactics, and experience. — Publishers Weekly
Upcoming Events
No upcoming events available