How to Train a Puppy: 2nd Edition: The Beginner's Guide to Training a Puppy with Dog Training Basics. Includes Potty Training for Puppy and (Paperback)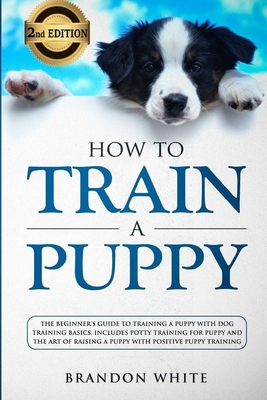 $16.90

Usually Ships in 1-5 Days
(This book cannot be returned.)
Description
---
*Revisited Edition + Bonus Chapter: Dog Training Games and Activities*
.
Do you want to grow up a
happy
and
healthy puppy
?
Do you want to create a trusting, long-lasting, and friendly relationship with your puppy?
Do you want to do it through
easy
and
fun methods
that you and your dog will enjoy?.
If you want to create an
incredible bond
with your dog, then keep reading.
.
Raising a puppy marks the beginning of your journey to turn your restless puppy into a faithful dog who will be by your side for life. Puppies are very tender and fun, but it can also be frustrating when they don't always do what you want them to do.
We are often led to think that training a puppy only means giving him commands in a strict and authoritarian way. But this will not be pleasant for our puppy. And neither will we.
How can you act if your puppy munches your shoes?
What can you do if your puppy pees all over the place?
How can you pleasantly improve your puppy's bad behavior without creating stress and anxiety for your dog?
.
The solution is to practice modern positive techniques that will create more awareness in your puppy, eliminating the common negative behaviors typical of their age. With these methods, you will have the clarity of how to grow a puppy, bringing joy and happiness into the lives of both.

.
With
How to Train a Puppy,
you will learn:
Techniques to relate to your dog in a positive way
How to make common commands useful without creating stress for your puppy
Simple strategies to teach your puppy how to behave at home
Effective methods on how to get your puppy potty trained
How to teach your dog not to destroy your house
How to make your dog overcome separation anxiety
How to learn to stop aggressive behaviors effectively
Strategies for improving your puppy's behavior with other dogs or cats
Lots of new games and activities to have fun together

.
Even if you've never had a puppy, you will learn how to raise a happy dog quickly and easily.
.
Would You Like To Know More?
Download now to create an amazing bond with your puppy
Scroll to the top of the page and select the buy now button.
Upcoming Events
No upcoming events available