Diaries of War: Two Visual Accounts from Ukraine and Russia [A Graphic Novel History] (Hardcover)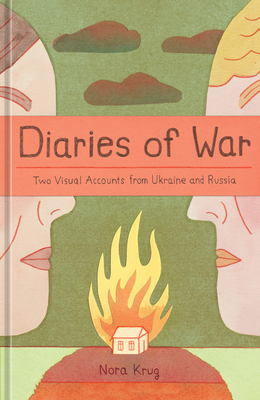 $24.99

Usually Ships in 1-5 Days
Description
---
Powerful graphic journalism that highlights the contrasting realities of a Ukrainian journalist and a Russian artist grappling with their own individual experiences of Russia's war on Ukraine—collected, edited, and illustrated by award-winning author Nora Krug

Immediately after Russia began its unprovoked invasion of Ukraine in February 2022, Nora Krug reached out to two anonymous subjects—"K.," a Ukrainian journalist, and "D.," a Russian artist—and began what would become a year of correspondence. Based on her weekly interviews with K. and D., Krug created this collection of illustrated accounts that chronicles two contrasting viewpoints from opposing sides of the first year in this ongoing war.

With millions displaced, injured, or killed as a result of the invasion, Krug presents a look at the devastating effects on an everyday, individual level. K.'s diary documents a year of emotional and existential distress. She experiences loss in every sense of the word: the death of those close to her, the disconnection from her family and friends, and the devastation of her country—but her account is also a story about bravery and survival in the face of dire uncertainty.

In juxtaposition, D.'s narrative details his disdain for his government's murderous actions and his attempts at emigrating his family abroad. He navigates his own struggle with cultural identity, guilt, and lack of action in the face of a tyrannical regime—a perspective that is necessary in challenging readers to confront the political actions of their own countries. Krug approaches Diaries of War with the immense skill and thoughtfulness required to document these two complicated experiences for the purpose of encouraging critical thinking.

Published as an Op-Comic series with the Los Angeles Times, with a portion of the entries unique to this book, Diaries of War is a harrowing real-time record of an international conflict that continues to devastate countless lives.
About the Author
---
Nora Krug is the author and illustrator of the graphic memoir Belonging, the illustrator of adaptation of On Tyranny by Timothy Snyder, and an associate professor at Parsons School of Design in New York. Her drawings and visual narratives have appeared in the New York Times, The Guardian, and Le Monde diplomatique. Her short-form graphic biography, Kamikaze, about a surviving Japanese World War II pilot, was included in editions of Best American Comics and Best American Nonrequired Reading. She is the recipient of fellowships from the Maurice Sendak Foundation, Fulbright, the John Simon Guggenheim Memorial Foundation, and the Pollock-Krasner Foundation, and has received gold medals from the Society of Illustrators and the New York Art Directors Club. She was named Illustrator of the Year by the Victoria and Albert Museum and was the winner of the National Book Critics Circle Award in Autobiography in 2019.
Praise For…
---
"As in Belonging, with Diaries of War Krug incorporates her careful research and observation skills alongside attentive and thoughtful design and illustration to tell a multilayered story of the many emotional and psychic ravages of war."—NPR

"Side-by-side first-person narratives—one Ukrainian, one Russian—depict in heartbreaking detail the devastation of the war in Ukraine in this visceral work of graphic journalism . . . powerfully conveys the chaos that war wreaks on civilians."—Publishers Weekly, starred review

"A necessarily sorrowful but insightful view of a war whose horrors are ongoing."—Kirkus Reviews