Romney: A Reckoning (Hardcover)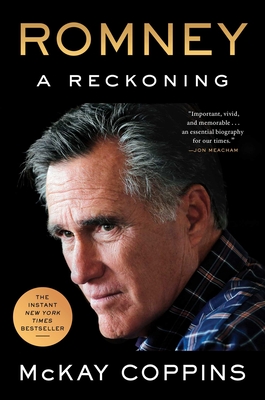 Description
---
NEW YORK TIMES BESTSELLER! A remarkably illuminating biography of one of America's most fascinating political figures—including news-making revelations from Mitt Romney himself about dissension within today's Republican Party—written with his full cooperation by an award-winning writer at The Atlantic.

Few figures in American politics have seen more and said less than Mitt Romney. An outspoken dissident in Donald Trump's GOP, he has made headlines in recent years for standing alone against the forces he believes are poisoning the party he once led. Romney was the first senator in history to vote to remove from office a president of his own party. When that president's supporters went on to storm the US Capitol, Romney delivered a thundering speech from the Senate floor accusing his fellow Republicans of stoking insurrection. Despite these moments of public courage, Romney has shared very little about what he's witnessed behind the scenes over his three decades in politics—in GOP cloakrooms and caucus lunches, in his private meetings with Donald Trump and his family, in his dealings with John McCain, George W. Bush, Barack Obama, Joe Biden, Mitch McConnell, Joe Manchin, and Kyrsten Sinema. Now, exclusively for this biography, Romney has provided a window to his most private thoughts.

Based on dozens of interviews with Romney, his family, and his inner circle as well as hundreds of pages of his personal journals and private emails, this in-depth portrait by award-winning journalist McKay Coppins shows a public servant authentically wrestling with the choices he has made over his career. In lively, revelatory detail, the book traces Romney's early life and rise through the ranks of a fast-transforming Republican Party and exposes how a trail of seemingly small compromises by political leaders has led to a crisis in democracy. Ultimately, Romney: A Reckoning is a redemptive story about a flawed politician who summoned his moral courage just as fear and divisiveness were overtaking American life.
About the Author
---
McKay Coppins is a staff writer at The Atlantic where he covers politics, religion, and national affairs. He is the author of The Wilderness, a book about the battle for the future of the Republican Party, and he has been a visiting fellow at the University of Chicago's Institute of Politics. He won the Aldo Beckman Award from the White House Correspondents Association for his coverage of the Trump presidency, and the Wilbur Award for religion journalism. He lives near Washington, DC, with his wife and children.
Praise For…
---
NEW YORK TIMES BESTSELLER
A New Yorker Best Book of 2023
An NPR Best Book of 2023

"Engrossing…one of the best political books I've read in years, and it provides key insights into how drastically the Republican Party has shifted in the decade since Romney was its presidential nominee."
—Scott Detrow, host of NPR's All Things Considered

"Revealing…Romney: A Reckoning is in many ways a straightforward biography, but it has the intimacy of a small subgenre of political confessions...throughout Coppins's narrative Trump, the supposed billionaire, morphs from comic relief into devouring nemesis….While should-have-known-better Republican colleagues waffled…Romney kept his head above the fetid waters."
—Tom Mallon, New York Times

"A scoop-rich biography…An especially clear window onto the forces that over the last decade have transformed the GOP….Coppins gained extraordinary access…The tell-all tales gush forth."
—Los Angeles Times

"Rare access…a reminder that meritocratic success in business is not easily translatable into democratic politics. What lessons should one draw from a wealthy, talented and decent man who attempts to lead a political party in the throes of a populist revolt? Above all, take care not to sacrifice one's family, faith, and integrity."
—Wall Street Journal

"An astonishing, nearly unprecedented catalog of intraparty critique… it's also, and maybe all the more importantly, a deft study of the capacity for rationalization…this is what makes this book so interesting, and also important."
—Politico

"A rare feat in modern-day political reporting: an account in which the subject engages in actual introspection."
—New Yorker

"The soon-to-be ex-senator shared a vast trove with biographer McKay Coppins for this book [which] has already scored in the marketplace of tittle-tattle, yielding several items worthy of Page Six, if not Page One. Coppins adds considerable value."
—Washington Post

"A complex book about a complex man, one that provides an unusually revelatory look at a prominent political figure's private views and inner conflicts."
—Boston Globe

"[A] probing biography...a penetrating analysis of the ongoing Republican civil war through the eyes of one of its last embattled centrists."
—Publishers Weekly

"A memorable distillation of a life in politics, of the tension between high principle and unseemly justification. It's a tension Romney has navigated better than most, in part for his willingness to acknowledge its existence."
—Carlos Lozada, New York Times