Making It So: A Memoir (Hardcover)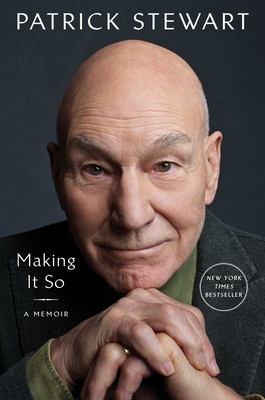 Description
---
THE NEW YORK TIMES AND USA TODAY BESTSELLER

The long-awaited memoir from iconic, beloved actor and living legend Sir Patrick Stewart!

From his acclaimed stage triumphs to his legendary onscreen work in the Star Trek and X-Men franchises, Sir Patrick Stewart has captivated audiences around the world and across multiple generations with his indelible command of stage and screen. Now, he presents his long-awaited memoir, Making It So, a revealing portrait of an artist whose astonishing life—from his humble beginnings in Yorkshire, England, to the heights of Hollywood and worldwide acclaim—proves a story as exuberant, definitive, and enduring as the author himself.
About the Author
---
Sir Patrick Stewart is a distinguished stage and screen actor whose illustrious career spans six decades. A classically trained theater artist who got his start at England's Royal Shakespeare Company, Stewart's legendary performances have garnered him three Olivier Awards, Emmy and Tony Award nominations, and a Grammy Award, among countless honors. His beloved screen work, known to audiences worldwide, includes his iconic portrayals of Star Trek's Jean-Luc Picard and X-Men's Professor Charles Xavier. Follow him on social media at @SirPatStew.
Praise For…
---
"I read this book in a state of wonder, not just for the author's gifts as a nuanced storyteller and sharp observer, but for those other remarkable gifts, of intelligence, sensitivity, wit, intuition, self-awareness, and élan that were bestowed on him when he came into the world—all of which he has freely shared with us so long and so beautifully; and finished reading in a state of deep gratitude for the gifts, and the gift, of Patrick Stewart." —Michael Chabon

"Patrick's early life is a Dickensian tale of domestic violence and misfortune, transformed by chance and some good folk into the actor internationally admired and loved. He writes as well as he acts, with insight, truth, and passion. Another Stewart Triumph!" —Sir Ian McKellen

"There is so much to say about Sir Patrick. He is an amazing actor, great to look at, really funny, and up for anything. He is a kind man…compassionate and sensitive….but, as you will find when you read the book, his greatest asset as a human being is the fact that he is so completely and unapologetically himself." —Whoopi Goldberg

"What a glorious memoir Sir Patrick Stewart has written. His prose is elegant and beautiful, diamond-like in its clarity and precision, and his recollections of his life are full of tenderness, insight, candor, and pathos. If he hadn't been so busy all these years being a great actor, delighting us all, he could have been a great writer, and now with this book, he is one." —Jonathan Ames