Basics with Babish: Recipes for Screwing Up, Trying Again, and Hitting It Out of the Park (A Cookbook) (Hardcover)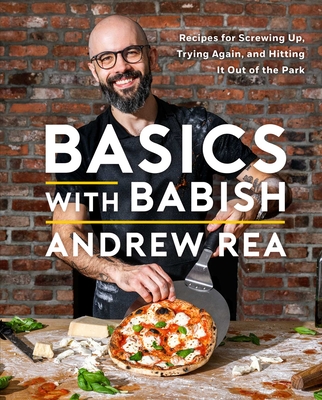 Description
---
"A stellar gift choice." —Tasting Table's Best Cookbooks to Gift this Holiday Season

NEW YORK TIMES BESTSELLER

NAMED A BEST COOKBOOK OF FALL 2023 BY FOOD & WINE, DELISH, and TASTING TABLE

The ultimate gift for the home cook on your list—from beginner to experienced kitchen enthusiast—with over 100 easy-to-follow recipes that perfect the classics while celebrating imperfection with humor and grace, from the culinary genius and creator behind the Babish Culinary Universe.

In his wildly popular Basics with Babish series, YouTube star Andrew Rea, who has amassed millions of subscribers, attempts, often fails, but always teaches cooking techniques for all levels of cooks. He's explained everything from how to make challah bread and English muffins to Asian dumplings and homemade bacon. Now those classic, essential recipes (and many more) are compiled into an authoritative cookbook which contains hundreds of step-by-step photographs with tips and tricks to help you troubleshoot anything from broken butter to burnt bread to bony branzino. Basics with Babish isn't just a kitchen Bible for a new generation of home chefs, it's a proud reclamation of mistakes which encourages you to learn from your and Andrew's missteps alike.

Andrew Rea launched Binging with Babish on YouTube in 2016, recreating and reimagining dishes from famous television programs and movies inspired by everything from Mad Men to The Simpsons to Game of Thrones. The tie-in cookbook, Binging with Babish, was an instant New York Times bestseller, and fans of that book and countless more will delight in this new cookbook which will truly teach you how to cook, with Rea's beloved sense of humor and guiding hand throughout.
About the Author
---
Andrew Rea is one part chef, one part filmmaker, a generous dash of irreverent YouTube personality, and the New York Times bestselling author of Binging with Babish. In 2017, he quit his day job to become an uplifting content creator. His YouTube channel, Babish Culinary Universe, has grown into one of the most successful and widely viewed on the platform with a new companion instructional cooking series, Basics with Babish. At the heart of everything produced from his home kitchen and studio in Brooklyn, New York, is a passion for learning, connecting, and pushing himself and others outside of their comfort zone.
Praise For…
---
"A genuine culinary gem."—Tasting Table's Best Cookbooks of Fall 2023

"Andrew Rea's latest cookbook teaches you essentials for becoming better in the kitchen."—Delish's Best Cookbooks of Fall 2023

"I've been following along on Andrew Rea's journey and am now at a point where I truly believe he might be a better cook than I. Maybe I'll read this book and learn the basics again, and just maybe I, too, can become an Internet chef sensation when I grow up!"—From the foreword by Roy Choi

"Understanding the basics of anything can be hard (we all saw baby boy Babish's first poutine attempt). That's why we learn, grow, thrive, and let Andrew's soft and supple voice into our heads, and we do it together!"—Matty Matheson

"I wouldn't be where I am today without Andrew Rea—Binging with Babish was my go-to whenever I needed help with recipes, techniques, or even just a bit of inspiration. Andrew is a perfect mentor for cooks of any experience level, and he doesn't cut corners on even the most complex of recipes but guides you through them in a way that makes each step seem simple. This book reflects all of that, and I truly couldn't recommend it enough."—Henry Laporte, better known as Salt Hank

"If you're a culinary enthusiast looking to elevate your cooking skills while having a good laugh, look no further than Basics with Babish. This cookbook is an easily digestible blend of instructional techniques, relatable anecdotes, and the handsome, bald bearded man's humor which helps wash it all down."—Owen Han, creator and author

"Andrew's book is full of recipes I can confidently recommend to patients, such as Charred Winter Vegetables (for the vitamins), Chicken Noodle Soup (for the electrolytes), or Egg Nog French Toast (for the soul), not to mention the chapter devoted to vegetables, which I recommend reading 4 to 6 times per day."—Doctor Mike Varshavski

"Basics With Babish is my go-to book whenever I have a question in the kitchen. It's so much more than recipes; it's technique. A new recipe can be daunting because you don't know the pitfalls, but Andrew does, because he's fallen into them before. This has all of his mistakes collected in one book, so you don't have to make them yourself. It's a must-have for any kitchen and for any cook regardless of skill level."—Max Miller, New York Times bestselling author of Tasting History

"The problem with a Babish cookbook is that it's a book. It's text and photos, when what we all really want is to watch Andrew (or at least his arms and hands) deliver his irreverent, self-deprecating, big-hearted take on our favorite foods. Or so I thought. Basics with Babish manages quite a feat: alongside serious recipes and helpful step-by-step photography is Andrew's big personality—dripped, spilled, and splattered across every page. Case in point: Who else introduces their recipes with a section called 'How I've Screwed This Up?'"—Dan Souza, editor in chief at Cook's Illustrated

"Mistakes are one of the most important skills for a home cook to learn, and finally we have a cookbook that celebrates them. Andrew eloquently taps into the human element that is often missing from recipes by acknowledging 'How I've screwed this up' in an attempt to help us avoid doing the same, but even if we do, he's right there to pick us up so we can try again."—Ethan Chlebowski, content creator