McSweeney's Issue 71 (McSweeney's Quarterly Concern): The Monstrous and the Terrible (Hardcover)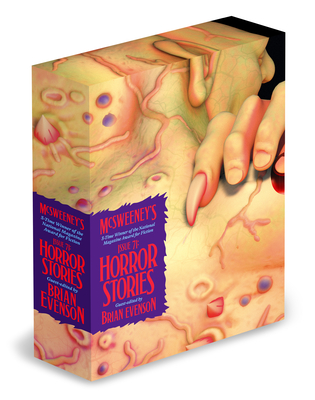 $32.00

Usually Ships in 1-5 Days
Description
---
Our first-ever issue-length foray into horror, and featuring one of our biggest lineups in some time, our seventy-first issue is one for the ages. Guest edited by Brian Evenson, McSweeney's 71: The Monstrous and the Terrible is a hair-raising collection of fiction that will challenge the notion of what horror has been, and suggest what twenty-first-century horror is and can be. And it's all packaged in a mind-bending, nesting-doll-like series of interlocking slipcases that must be seen to be believed.
There's Stephen Graham Jones's eerie take on the alien abduction story, Mariana Enr quez's haunting tale of childhood hijinks gone awry, and Jeffrey Ford on a writer who loses control of his characters. Nick Antosca (cocreator of the award-winning TV series The Act) spins out a novelette about the hidden horrors of wine country. There's Kristine Ong Muslim exploring environmental horror in the Philippines; a sharp-edged folk tale by Gabino Iglesias, and Din writer Natanya Ann Pulley reimagining sci-fi horror from an indigenous perspective. Hungarian writer Attila Veres proffers a dark take on the not-so-hidden sociopathy of multi-level marketing. And Erika T. Wurth explores the dark gaps leading to other worlds. If that weren't enough: an excerpt from a new novel by Brandon Hobson; a chilling allegorical horror story by Senaa Ahmad; a Lovecraftian bildungsroman by Lincoln Michel; unsettling dream cities from Nick Mamatas; M. T. Anderson's exceptionally weird take on babysitting; and, improbably, much more.
About the Author
---
McSweeney's Quarterly Concern began in 1998 as a literary journal that published only works rejected by other magazines. That rule was soon abandoned, and since then McSweeney's has attracted some of the finest writers in the world, from George Saunders and Lydia Davis, to Chimamanda Ngozi Adichie and David Foster Wallace. Recent issues have featured work by Tommy Orange, Hanif Abdurraqib, Lisa Taddeo, Mimi Lok, and Lesley Nneka Arimah. At the same time, the journal continues to be a major home for new and unpublished writers; we're committed to publishing exciting fiction regardless of pedigree.