My First Book of Growing Food: Create Nature Lovers with this Earth-Friendly Book for Babies and Toddlers. (Terra Babies at Home) (Board book)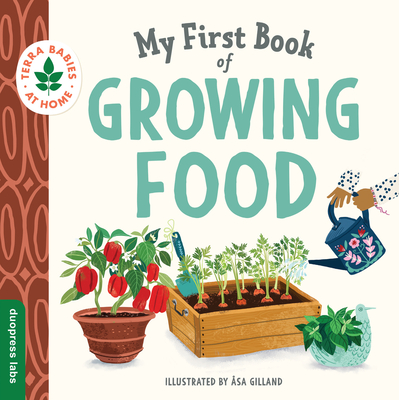 Description
---
Introducing Terra Babies at Home, a new board book series that presents plants, animals, and the environment to early readers from the intimacy of their home and helps them connect to the natural world
My First Book of Growing Food is a beautiful introduction for babies and toddlers to the benefits of growing food, helping them to develop a connection with the natural world. Like other titles in the earth-friendly series Terra Babies at Home, this book is made with FSC materials and nontoxic inks, and it is recyclable.
Simple and quirky text pairs with charming art by Åsa Gilland (The Perfect Shelter) in this book where future nature lovers will learn about growing simple foods in a friendly and easy way while being introduced to basic concepts of the environment.
Tots will learn that lettuce and tomatoes are easy to grow; herbs like rosemary, mint, and cilantro grow happily next to a bright window; and yes, tots can grow their own strawberries. And that's not all: The book shows readers how to start their own herb garden in twelve easy steps!
- Printed on a sturdy board using FSC materials and nontoxic inks
- Great quality and baby safe
- Real board books, perfect for little hands
- Round corners for extra safety
- A great baby shower gift
Also available from Terra Babies at Home: My First Book of Houseplants.
About the Author
---
duopress labs creates innovative books and gifts for children and adults. Recent titles include the TummyTime®, Terra Babies, SmartFlash™, Pop Out, and High-Contrast series; The Belly Sticker Book; 100 Pablo Picassos; My Fridge; and A Good Deck.
Åsa's dad was a mapmaker who'd spend summers outdoors detailing aerial photos, while she would pass time in the car, drawing creatures and folks entangled in perplexing drama. That is why Åsa is still pretty good at drawing in a moving car. Åsa is the author of The Perfect Shelter (starred review from Kirkus).
Upcoming Events
No upcoming events available