Dome 6: Tinkered Starsong Book 3 (Paperback)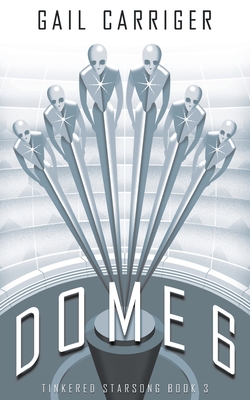 Description
---
Saving the unwilling with song, one planet at a time.
New York Times bestselling author Gail Carriger brings you the thrilling conclusion to her Tinkered Starsong trilogy in which the true purpose of the divinity is revealed at last.
Can a group of performers take on an entire alien species? Do they want to, if the price of the truth is their own popularity and the safety of billions?
Phex, Missit, and their pantheons are the most popular gods in the galaxy and the aliens will stop at nothing to keep them singing. But with great fame comes great responsibility. As Phex finally understands the consequences of the music he produces, he is forced to choose between being a god and destroying humanity.
If you could sing peace into the bones of the universe, would you? Even if no one wanted salvation?
"A tapestry that is simultaneously witty, charming, exhilarating and downright fun." - fantasyliterature.com (Soulless)
Ender's Game but make it Kpop in the final installment of the Tinkered Starsong trilogy (follows Divinity 36 and Demigod 12) in which the mystery of the Dyesi is finally uncovered.
Also by Gail Carriger
Crudrat (set in the same universe)
The Finishing School series (start with Etiquette & Espionage)
The Delightfully Deadly stories
The Parasol Protectorate series (start with Soulless)
The Supernatural Society stories
The Custard Protocol series (start with Prudence)
The Claw & Courtship stories
As G L Carriger
The 5th Gender (also scifi set in the same universe)