Shut Up and Cook!: Modern, Healthy Recipes That Anyone Can Make and Everyone Will Love (Paperback)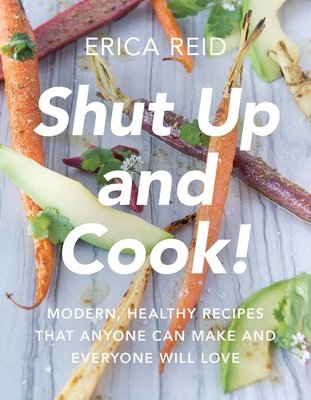 Description
---
Say Goodbye to Your Excuses and Hello to Easy, Healthy Recipes

We all want to eat healthier and feel better, but we don't always know where to start—and stepping into the kitchen can feel overwhelming.

Sound familiar? Shut Up and Cook! provides simple, healthy recipes for all lifestyles, dietary habits, and tastes.

After noticing how certain chemicals and ingredients were impacting her family's energy and well-being, author Erica Reid realized prioritizing health begins in the kitchen. In Shut Up and Cook!, Erica—a healthy-living expert, mother, and wife to legendary music mogul LA Reid—shows you that creating nourishing meals can be inspiring and fun! Shut Up and Cook! features 101 healthy, everyday recipes with adaptations to suit your health needs that are easy for any level of experience including:

   • Rice-Free Cauliflower Sushi Rolls
   • Chocolate Chip Cookies with Crispy Kale
   • Game-Day Buffalo Chicken Wings
   • Dairy-Free Challah Vanilla French Toast


With the right tools and Erica by your side, you can cook wholesome, delicious food. Set aside the reasons why you can't be healthier and shut up and cook!
About the Author
---
Erica Reid is married to music mogul and visionary Antonio "LA" Reid, and is the head of a health conscious lifestyle brand and conscious living movement geared at simple everyday ways to improve and nurture your life for yourself and your loved ones. She is mother to Arianna and Addison, and her commitment to health and dedication to mothering led her to write her first book The Thriving Child—a much needed nourishment guide for parents and those with day to day involvement with children. Her versatility and global brand speaks to women of all backgrounds who are inspired towards a sustainable and vibrant life. Erica's roots go back to Colorado, where she was one of three daughters raised by a single mom. She worked three jobs to put herself through college and fed her gypsy spirit by learning how to survive on her own in Atlanta, Paris, California, and Greece before finally settling in New York where she lives with her husband and two children.
Praise For…
---
"Erica Reid has written a wise and wonderful cookbook with recipes that promote heart health and brain health. . . . This book makes healthy eating for the whole family accessible and tasty!"
—Gayatri Devi, MD
Upcoming Events
10/20/2021 - 7:00pm to 8:00pm

11/17/2021 - 7:00pm to 8:00pm

12/15/2021 - 7:00pm to 8:00pm