First Wilderness: My Quest in the Territory of Alaska (Paperback)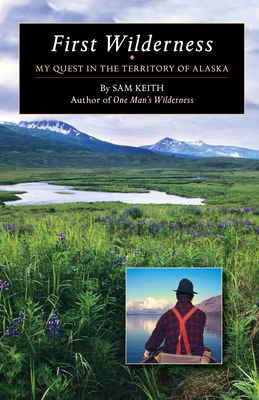 Email or call for price 360-452-6367, pbnturner@olympus.net
Out of Print
(This book cannot be returned.)
Description
---
Fans of the Alaskan classic ONE MAN'S WILDERNESS will enjoy reading this memoir, of how its author, Sam Keith, and its subject, Dick Proenneke, first met.
After serving as a US Marine during World War II and attending college on the GI Bill, Sam Keith decided to seek adventure and acceptance in Alaska. He arrived on Kodiak Island in July, 1952, where he secured a job as a laborer on the Adak Navy base.
He befriended a group of like-minded men there, including Dick Proenneke, who shared a love of the outdoors, hard work and self-reliance. Keith explored the wilds of South Central Alaska while working on the Navy base, and later as a Stream Guard and Enforcement Patrolman. In his hunting and fishing trips with Dick and his friends, Keith found almost everything he sought.
But at the end of three years, Keith decided to go Outside to pursue other dreams. Dick Proenneke tells him, "Sam, you know right well you don't want to leave this country. Don't give up on it. Me and you got to figure something out."
In 1973, Keith went on to write ONE MAN'S WILDERNESS: AN ALASKAN ODYSSEY, based on his dear friend's journals and photography. It was reissued in 1999 and won a National Outdoor Book Award (NOBA). In 2003, portions of text from the book and some of Proenneke's 16mm movies were used in Alone in the Wilderness, which began appearing on US public television stations. The documentary follows Proenneke as he builds a log cabin with only hand tools, and includes reflections on wildlife, weather, and the natural scenery he sees around him.
Sam Keith passed away in 2003. But in 2013, his son-in-law, children's book author/illustrator Brian Lies, discovered a book manuscript in an archive box in their garage, originally written in 1974 after the publication of ONE MAN'S WILDERNESS.
FIRST WILDERNESS is the story of Keith's own experiences, at times harrowing, funny and fascinating. Along with the original manuscript are photos and excerpts from his journals, letters, and notebooks, woven in to create a compelling and poignant memoir of search and discovery.
About the Author
---
Sam Keith's (1921- March 28, 2003) most notable work was the best-seller ONE MAN'S WILDERNESS: AN ALASKAN ODYSSEY in which he edited the journals and photographs of his friend Richard Proenneke's (May 4, 1916 - April 20, 2003) solo experiences in Alaska. The book was reissued in 1999 and won a National Outdoor Book Award. Text from the book was used in the documentary seen on PBS, ALONE IN THE WILDERNESS www.dickproenneke.com. After the release of the video and its frequent appearance on PBS membership drives, it became a runaway best seller. The close friends passed away within thirty days of each other. More information available at www.samkeith.net and on Facebook at https: //www.facebook.com/pages/First-Wilderness-by-Sam-Keith/625127200891030 Foreword writer Nick Jans is one of Alaska's most recognized and prolific writers. A contributing editor to Alaska Magazine and a member of USA Today's board of editorial contributors, he's written nine books and hundreds of magazine articles, and contributed to many anthologies. In addition, Jans is a professional nature photographer, specializing in wildlife and landscapes in remote locations. He currently lives in Juneau with his wife, Sherrie, and travels widely in Alaska. www.nickjans.com