The KitCook Air Fryer Cookbook: 550 Easy Recipes to Fry, Bake, Grill, and Roast with Your KitCook Air Fryer (Hardcover)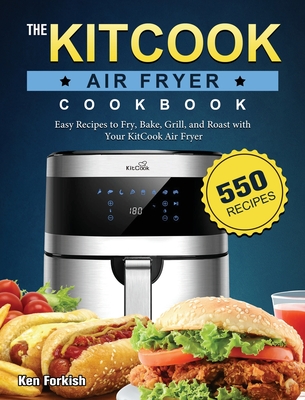 $26.99

Special Order
(This book cannot be returned.)
Description
---
Air fryers are fast, and once you understand how they work, they can be used to heat frozen foods or cook all sorts of fresh food like chicken, steak, pork chops, salmon and veggies. Most meats require no added oil because they're already so juicy: just season them with salt and your favorite herbs and spices. Make sure you stick to dry seasonings - less moisture leads to crispier results. If you want to baste meats with barbecue sauce or honey, wait until the last couple minutes of cooking.
Lean cuts of meat, or foods with little or no fat, require oil to brown and crisp up. Brush boneless chicken breasts and pork chops with a bit of oil before seasoning. Vegetable oil or canola oil is usually recommended due to its higher smoke point, meaning it can stand up to the high heat in an air fryer.
Vegetables also need to be tossed in oil before air frying. We recommend sprinkling them with salt before air frying, but use a little less than you're used to: The crispy, air fried bits pack a lot of flavor. We love air frying broccoli florets, Brussels sprouts and baby potato halves. They come out so crispy Butternut squash, sweet potatoes and beets all seem to get sweeter, and green beans and peppers take no time at all.
In This Book, You'll find more than 550 recipes for whipping up quick, simple, and flavorful air-fried meals designed to share with your family