Electric Smoker Cookbook: 50+ Delicious Techniques for Smoked Pork Meat - 2021 Edition with Taste Recipes (Paperback)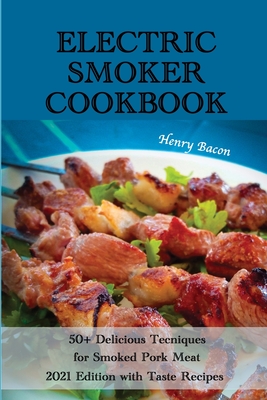 Description
---
★ 55% OFF for Bookstores NOW at $ 24.95 instead of $ 34.95 LAST DAYS ★
The Electric Smoker Cookbook is intended to provide instructions for making delicious food using the system. For experienced grillers, the cookbook will also act as a guide to best practices and demonstrate how the smoking process can be used for searing, grilling, smoking, and calm heating.
These recipes are designed to produce high-quality meals in a relatively short amount of time. The recipes are intended to be simple and approachable so that even beginners can use the system without being intimidated by it.
Our cookbook does not focus on details of temperature or pressure or handling wood pellets; these are details that can vary from smoker to smoker. Instead, we have given you clear instructions on how to accomplish the cooking process that you want to achieve in your smoker.
This book covers:
- Pork Recipes For Electric Smoker
- Sausage Recipes For Electric Smoker
And much more
The recipes in this cookbook include plenty of options that allow you to cook different types of foods at different temperatures and lengths of time. This means that you can achieve the full range of flavors that our electric smokers are capable of producing. We include any additional ingredients that may be necessary for achieving the perfect flavor profile for your particular meal. Many of the recipes are designed with specific temperature and smoke time ranges for each specific type of food item. You will find instructions throughout the book on how to achieve the best results when smoking these kinds of foods at these specific temperatures and times.
★ 55% OFF for Bookstores NOW at $ 24.95 instead of $ 34.95 LAST DAYS ★
Your Customers Never Stop to Use this Awesome Cookbook
Buy it NOW and let your customers get addicted to this amazing book