Copycat Recipes Cookbook: + 250 Delicious Recipes Taken from the Best Restaurant in the World to Replicate with Ease at Home (Hardcover)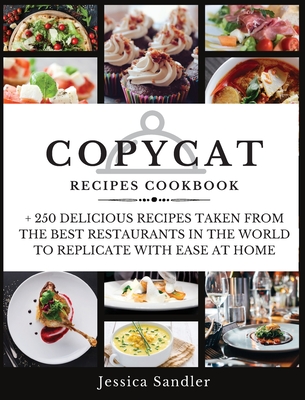 $36.90

Usually Ships in 1-5 Days
(This book cannot be returned.)
Description
---
Are you looking for a cookbook to prepare dishes from your favorite restaurants at home?If yes, this is the right book for you
The most significant advantage of making copycat recipes at home is improving on them, doing your twist to the recipe, and so much more. You can also be sure that they are safe because you are the one who is making them. Besides that, you can also save a ton of money because eating out is much more expensive than making it yourself. Moreover, duplicate dishes from your favorite restaurants at home shows other benefits such as food satisfaction because home-made food is tastier. Cooking at home with your kids or with your mother or father also helps create a family bonding.
Having regular meals inspired by your favorite restaurants as a family allows for a healthier, more tight-knit family. Research shows children living in families who dine together at home are more united, happier, and perform better in school.
So, what if you had access to the top-secret restaurant recipes that so heavily guard those popular restaurants?
This Book contains several copycat recipes:
Breakfast and Dessert
Appetizers
Pasta
Salads
Fish and Other Seafood
Poultry, Pork, and Beef
...And many more
With this guide, you will quickly cook your favorite recipes with a little practice and patience. So, what are you waiting for? Click "Buy Now" and start cooking like a professional
Upcoming Events
10/20/2021 - 7:00pm to 8:00pm

11/17/2021 - 7:00pm to 8:00pm

12/15/2021 - 7:00pm to 8:00pm