Disney Villains Happily Never After: A Villainous Book of Love and Friendship for a Very Special Someone (Hardcover)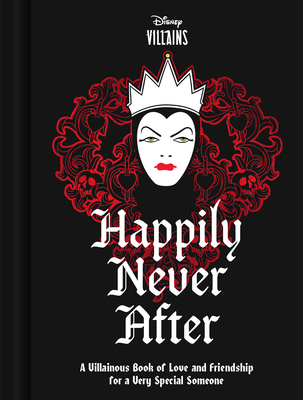 Description
---
And they lived happily never after . . . This irreverent-yet-endearing collection of snarky sentiments and wicked affection features the most terrifying Disney villains in all the land.
Tell the person you hate to love and love to hate how you really feel with a charming but cheeky book featuring villainous characters from the darker side of the Disney universe. With thoughtful gifts from poison apples to cuddle puddles with a trio of hyenas, this mischievous collection of art created by Disney graphic designers is a deviously sweet gift of love and friendship for a very special evil someone.
© 2023 Disney Enterprises, Inc.
A SWEET (AND SOUR) GIFT FOR YOUR VALENTINE: This playful little book is the perfect fun, funny present for anyone who would rather skip Valentine's Day and instead celebrate Villaintine's Day.
LOVE FROM THE DARKER SIDE: Maleficent, Ursula, Cruella, Captain Hook, and many more share their dastardly feelings on love and friendship.
DISNEY GIFTS FOR THE CRUELLA  AT HEART: Pair this villainous volume with
The Disney Villains Postcard Box
to create a delightfully maleficent gift set.
Perfect for:
Fans of the Disney Villains franchise
Gifts for anti–Valentine's Day enthusiasts or snarky Galantine's Day
Anyone who feels the villains have been misunderstood
About the Author
---
From humble beginnings as a cartoon studio in the 1920s to today's global corporation, The Walt Disney Company provides quality entertainment for families across America and around the world.