Asian American Herbalism: Traditional and Modern Healing Practices for Everyday Wellness—Includes 100 Recipes to Treat Common Ailments (Paperback)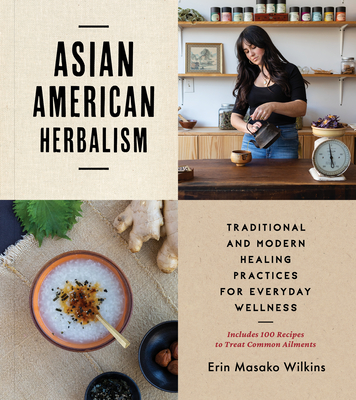 Description
---
Japanese American herbalist and acupuncturist Erin Masako Wilkins shares accessible and comprehensive herbal wellness practices, remedies, and recipes, rooted in Asian tradition for optimal health.
Erin Masako Wilkins is a California-based herbalist, acupuncturist, and the founder of Herb Folk, an online shop with an array of Asian American herbs, teas, and wellness products. In
Asian American Herbalism
, Wilkins shares a beautifully illustrated and photographed collection of herbal recipes, remedies, and wellness practices. Rooted in East Asian history and culture, these offerings will help the reader to prevent illness and restore health and vitality.
This comprehensive wellness guide addresses the root causes of illnesses and offers 100 easy and accessible herbal recipes to heal, uplift, and improve the quality of daily life. A central theme of this book is that food is our greatest medicine, and there is an emphasis on incorporating herbs into daily meals and drinks to address common ailments, such as allergies, anxiety and depression, digestion and gut health, menstrual disorders, and sleep difficulties. For example:
Loquat cough syrup for a lingering cough
Nettle soup and magnolia bud tea for seasonal allergies
Okayu (Japanese rice porridge) for recovering from illness
Reishi mushroom decoction for insomnia and night sweats
Medicinal herb stock to increase energy and vitality
Fresh mulberry sweet tea or an infusion of marshmallow leaf and rose to ease digestive woes
Illustrated instructions offer guidance on how to practice gua sha for better health with a culturally mindful framework
In addition, Wilkins visually walks readers through the process of preparing homemade herbal remedies with ingredients that can be found at local markets.
The first contemporary book exploring the intersection of American folk herbalism and traditional Chinese medicine by an AAPI author, 
Asian American Herbalism
is filled with practical remedies easy enough for even the busiest reader to implement and beautiful enough to display on a shelf or coffee table. An exploration of what it means to practice traditional Asian medicine in the context of modern-day life, it is the perfect health and wellness reference guide for our time.
About the Author
---
Erin Masako Wilkins is an Asian American herbalist, acupuncturist, and educator whose work centers on empowering others with the knowledge and skills to heal on their own terms. She founded and ran Herb Folk, an herb shop and community clinic in Petaluma, California, until 2022. She now runs HerbFolkShop.com, where people can purchase teas, herbal remedies, and wellness products. In addition, she teaches herbalism courses online and in the greater San Francisco Bay Area. Wilkins received her master's degree from and trained at the Acupuncture and Integrative Medicine College in Berkeley, California.
Praise For…
---
"An enlightening guide to making herbal remedies…the thorough primer on traditional Asian medicine will satisfy curious readers. It's a robust introduction to an ancient tradition."—Publishers Weekly 
"For curious folks seeking knowledge about how traditional Asian herbal medicine is practiced in contemporary society, this is your book. Wilkins has captured the essence of her herbal medicine ancestry with the practicalities and complexities of what it means to be alive today. An essential addition for the curious and professional herbalist library."
—Laura Ash, clinical herbalist, founder/CEO of the Verse herb school, and founder of the Herbal Anthropology Project
"In a sea of wellness trends, this book feels like an anchor helping you stay grounded in the foundations of Asian American Herbalism while leaving you feeling empowered to get in the kitchen and create healing remedies. This book truly feels like a love letter to the everyday healers that came before us."
—Sarah Kate Benjamin, author of The Kosmic Kitchen Cookbook
"This collection of folk medicine, from cultures both East and West, is a treasure trove of natural remedies, employing easily obtained ingredients. Asian American Herbalism is a beautifully produced book that is a delight to explore."
—Andrew Ellis, author and translator of multiple books, including Chinese Herbal Medicine: Formulas and Strategies, and owner/co-founder of Spring Wind Herbs
"??Erin Masako Wilkins has written a beautiful book that celebrates East Asian culture by weaving together her Japanese American heritage, knowledge of Chinese medicine, and remarkably simple ways to take care of ourselves. It is truly a thoughtful representation of what it means to be Asian and American. This is more than a book. It is a joyful collection of ancestral wisdom and living medicine."
—Dr. Tamsin Lee, East Asian medicine health justice educator and podcast co-host of Beauty as a Birthright
"An absolute new favorite in my herbal library! With countless recipes, remedies, and tips for well-being, this book is meant to be used."
—Rosemary Gladstar, herbalist and author of multiple books, including Medicinal Herbs: A Beginner's Guide