Liz Climo 2024 Daily Calendar (Calendar)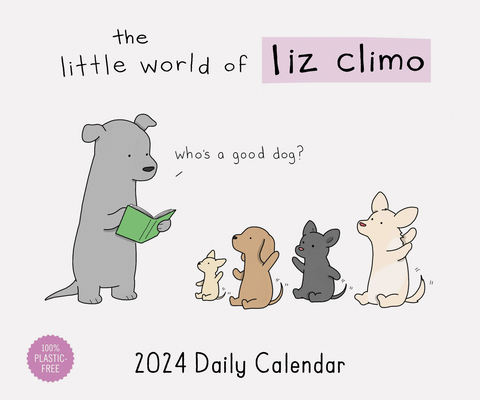 Description
---
This charming day-to-day calendar features adorable animal comics by bestselling author Liz Climo.
With a different illustration on each page, this day-to-day desk calendar features Liz Climo's short and sweet comics on the funny-yet-honest exchanges that likely occur in the animal kingdom. Sweet, adorable, and all too relatable, this calendar captures life's everyday eccentricities with lighthearted wit and wisdom, making it an irresistible self-buy and a unique, affordable gift for fans of Liz Climo and animal lovers everywhere.
5 1/8 x 4 1/2 x 1 1/2 inches
314 tear-away pages
GREAT GIFT: Easy to display at home or in an office, this is a must-have for Liz Climo fans, a perfect present for animal lovers, and a unique treat for moms, dad, aunts, grandmas, and more.
RELATABLE AND FUNNY CONTENT: Liz Climo has a gift for creating short and sweet panels that range from goofy to sweet to laugh-out-loud funny and beg to be shared with a friend or parent. Her voice is pitch perfect, and her animal art is just as charming.
POPULAR, WELL-CONNECTED AUTHOR: Liz Climo is beloved by many, and her books, calendars, and greeting cards have collectively sold over 3 million copies worldwide. She is also an illustrator for the Simpsons, and is adored by artists everywhere, especially online.
Perfect for:
Liz Climo and webcomic fans
Animal lovers
Moms, dads, aunts, grandparents, best friends, and more
Anyone who appreciates cute animal humor