Echo Loba, Loba Echo: Of Wisdom, Wolves and Women (Hardcover)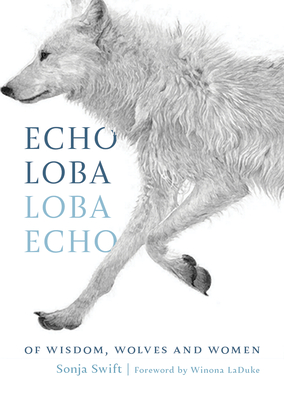 Description
---
A unique look at the cultural, environmental, historical, literary, metaphorical, and political role of the wolf.
Echo Loba, Loba Echo is a story about the metaphor of the wolf and how this is echoed in the lives and minds of people. A metaphor that embodies worldviews colliding, and the collision, the fallout, we live with still. It is a story about wolves' own cultures, survival stories, acts of rebellion, and vital roles in maintaining healthy territories. And it is also a story about what we have been told to forget, or never even know, and what wolves show us about ourselves.
Through essay and poetry, the metaphor of the wolf, and loba - for she-wolf - is examined the way one might observe the light off a prism, in multi-dimensional ways. The associations are many and diametrically varied. Wolf as scapegoat, villain, outcast, blamed for human violence. Wolf as warrior, guide, mother to stray or orphaned children as well as her own pups. The Ojibwe word for wolf is ma'iingan: the one sent here by that all-loving spirit to show us the way. Wolf (Latin: lupus), which is another word for whore (lupa), for woman. Wolf, another word for backcountry. Yet the choice is not an easy duality, not simply between the notion of wolf as heroine or wolf as devil.