Open Your Own Doors: One Woman's Story of Success in a Male-Dominated Industry (Paperback)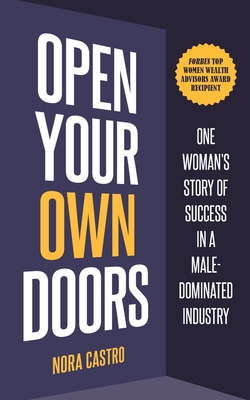 $14.95

Usually Ships in 1-5 Days
Description
---
How women can speak up and stand out in a business world built for men.
A Top Ten performer at a previous financial advisory services firm, Nora Castro was invited to meet with the senior executive team at her new company. In a boardroom where Castro was the only female in attendance, the president asked for big ideas to save the firm from their shrinking footprint in the industry. Castro's hand shot up. "I have the answer " When she was ignored, she responded in a loud voice, "What percentage of executives in our firm are women?" Without acknowledging her, the president called an end to the meeting and the men walked out, leaving Castro sitting alone.
This is the story of how one woman fought her way to the top in a cutthroat industry built and run by men. Through vivid career anecdotes and a little tough love, Castro shows women everywhere-regardless of industry-how to follow her up the ladder and open the door to their own success.
Open Your Own Doors is chock-full of actionable steps for strategically building your career by leveraging a feminine superpower: nurturing relationships. A motivating narrative from a formidable woman, this guide is essential for learning how to speak up and stand out.
Upcoming Events
No upcoming events available