The Little Grey Men (Paperback)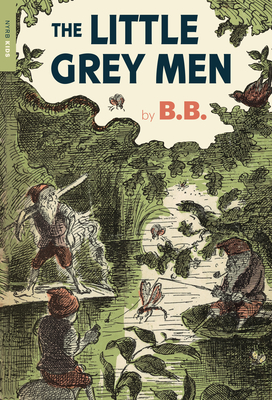 Description
---
"This is a story about the last gnomes in Britain. They are honest-to-goodness gnomes, none of your baby, fairy-book tinsel stuff, and they live by hunting and fishing, like the animals and birds, which is only proper and right." —From the author's introduction
 
On the banks of the Folly Brook, inside an old oak tree, live the last three gnomes in Britain: Sneezewort, Baldmoney, and Dodder. Before their fourth brother, Cloudberry, disappeared upstream seeking adventure, they lived happily and peacefully among their woodland friends. But now spring has come and the brothers start thinking about spending the summer traveling upstream to find Cloudberry. Before long they've built a boat and set off for unknown lands, where they find themselves involved in all kinds of adventures with new friends (wood mice, water voles, badgers) as well as with enemies (two-legged giants). A classic of British literature, B.B.'s The Little Grey Men has much in common with Kenneth Grahame's The Wind in the Willows, though as B.B. acknowledges in his introduction, the talking gnomes are only part of the story. The true plot, which B.B., an unparalleled naturalist, brings thrillingly to life is the magic of the woods and streams, the beauty of unspoiled nature and of the great diversity of living things.
About the Author
---
B.B. (1905–1990) is the pseudonym for the British naturalist, illustrator, and children's author Denys James Watkins-Pitchford. In 1942, he won the Carnegie Medal for British children's books. Watkins-Pitchford was born in Lamport, Northamptonshire, where he developed a love of the great outdoors, hunting, fishing, and drawing, all of which influenced his writing. He attended the Northampton School of Art, and while there won a traveling scholarship to Paris, where he attended drawing classes and worked in a studio in Montparnasse. In 1924, he started studying at the Royal College of Art in London, and in 1930 he began working as an assistant art master at Rugby School and contributing to the Shooting Times as an illustrator and a writer. It was during this time that he adopted his nom de plume, B.B., which was based on the size of the shot he used when hunting geese. In 1986, he was awarded an honorary MA by Leicester University and in 1990 was made a Member of the Order of the British Empire. B.B. followed The Little Grey Men with a sequel, Down the Bright Stream.
Praise For…
---
"My dad bought the beautifully illustrated book The Little Grey Men, by B.B. (ages 8 to 12), for me when I was 8 or 9. It's about three gnomes searching for their long-lost brother. Aside from being a rattling good adventure story, it's a wonderful sort of nature study, following gnomes through the seasons." —Julie Andrews, Parents Magazine

"The plot, involving three gnomes who set off upstream in search of a fourth who went a-questing two years earlier, is thoroughly wrapped in rhapsodic descriptions of bird song and nodding wildflowers, bubbling waters, breezes and storms, grassy pastures, the pleasures of angling, and nature observed from ground level. . . . [F]ans of Wind in the Willows will feel right at home. . . . The story winds down to a happy twist at the end. Given patient listeners, this Carnegie Medal–winner makes a leisurely but finally engaging read-aloud." —Kirkus
 
"Though it's a little galling to discover that I am not the only person who thinks that 1941's [Carnegie Medal] winner, The Little Grey Men by BB, is a terrifically moving elegy for an England now almost extinct, it is gladdening in the extreme to know that other people have also been beguiled by the beauty of a meticulously observed countryside inhabited by gnomes with a passion for pipe-smoking." —Olivia Laing, "In Praise of the Carnegie Medal," The Guardian
 
"The Little Grey Men established (Denys Watkins-Pitchford, A.K.A. 'B.B.') at the forefront of children's literature." —CILIP Carnegie & Kate Greenaway Children's Book Awards

"A couple of years ago I found myself gazing at the cover of a book I'd loved as a child . . . I braced myself in case its magic had faded in the 40 years since it had been read to me at bedtime. . . I loved B.B.'s illustrations, the precise and detailed rendering of the natural history in the book, and most of all the feeling it gave me of a secret world to which I was being granted privileged access. I needn't have worried. As I turned the pages I found myself enchanted all over again." —Melissa Harrison, The Guardian