Death Valley: A Novel (Hardcover)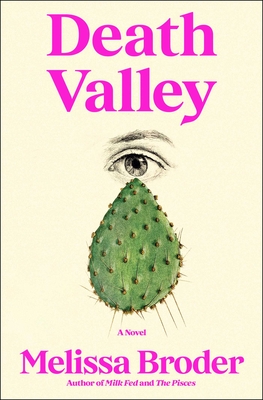 October 2023 Indie Next List
---
"A hike becomes a metaphysical journey straight into the center of grief, featuring literature's most memorable cactus. Broder delivers us directly to the site of the wound and somehow makes us want to linger. Beautiful, exciting, and profound."
— Kristen Iskandrian, Thank You Books, Birmingham, AL
Description
---
From the visionary author of Milk Fed and The Pisces, a darkly funny novel about grief and a "magical tale of survival" (Publishers Weekly, starred review).

In Melissa Broder's astonishingly profound new novel, a woman arrives alone at a Best Western seeking respite from an emptiness that plagues her. She has fled to the California high desert to escape a cloud of sorrow—for both her father in the ICU and a husband whose illness is worsening. What the motel provides, however, is not peace but a path discovered on a nearby hike.

Out along the sun-scorched trail, the narrator encounters a towering cactus whose size and shape mean it should not exist in California. Yet the cactus is there, with a gash through its side that beckons like a familiar door. So she enters it. What awaits her inside this mystical succulent sets her on a journey at once desolate and rich, hilarious, and poignant.

Death Valley is Melissa Broder at her most imaginative, most universal, and finest, and is "a journey unlike any you've read before" (Nana Kwame Adjei-Brenyah, author of Friday Black).
About the Author
---
Melissa Broder is the author of the novels Milk Fed, The Pisces, and Death Valley, the essay collection So Sad Today, and five poetry collections, including Superdoom. She has written for The New York Times, Elle, and New York magazine's The Cut. She lives in Los Angeles. Follow her on Twitter @SoSadToday and @MelissaBroder and Instagram @RealMelissaBroder.
Praise For…
---
"Incandescent . . . ecstatically awake to the world's astonishments. . . . Death Valley is a triumph, a ribald prayer for sensuality and grace in the face of profound loss, a hilarious revolt against the aggressive godlessness, dehumanization and fear plaguing our time. All ten of Melissa Broder's finger lamps are blazing. Why not be totally changed into fire?" —Claire Vaye Watkins, The New York Times Book Review

"Melissa Broder, a genius and a sorceress, has once again written the very best book, this one about tragedy and grief and whether or not to take the road less traveled, but also the struggle to write a good novel. It's spiritual without being full of woo-woo and also extremely funny and you should read it!!" —Samantha Irby, Vanity Fair

"Extremely funny and deeply felt." —People

"One of the best books I've read in years: funny, brilliant, gutting, and easily devoured over the course of one blissful afternoon." —Elle

"Sardonic, self-implicating prose that cuts to the bone is Broder's specialty, and Death Valley is probably the funniest book you'll ever read about getting lost and almost dying."—The Cut

"A witty, psychedelic exploration of grief. . . riotously funny." —Guardian

"Her most profound book yet . . . Surreal, hysterical and beguiling in every sense." —Glamour

"A hilarious and hallucinatory journey into the badlands of California. . . . Like grief itself, this book is at once surreal, absurd, lucid, and wise; it will change you." —O, The Oprah Magazine, Best Books of 2023

"A surrealist story about anticipatory grief that is as wryly funny as it is moving. Broder curls moments of devastation softly towards moments of the mundane. . . . Broder's third novel is a propulsive, semi-meta journey of an author balancing the sorrow of a sick husband and a father in the ICU with a looming novel deadline . . . unforgettable."—NYLON

"Broder takes her absurdist humor to new heights as she spins a surrealist tale of emptiness, exploration and existential crisis in the California desert." —W Magazine, Most Anticipated Books of Fall 2023

"Broder's own gift is for scenes and dialogue that are so natural—in that they reflect the ridiculousness and surrealism of real life—that they tip over into the uncanny. She is also very funny." —The Los Angeles Times

"A profound look at caregiving and grief, but it also manages to be a very funny, quick, and engaging read. Don't miss it." —theSkimm

"Broder is a comedic writer, a poet averse to stale language and an online personality tirelessly manning a churn of new quips on the familiar subject of sadness." —Washington Post

"Think the Chronicles of Narnia, but instead of a wardrobe, it's a cactus." —Cosmopolitan

"Funny, frank and life-affirming." ?Daily Mail

"Vividly relatable. . . . a psychological portrait of a woman trying to come to terms with the terrifying co-existence of life and death." —Telegraph (UK)

"Death Valley is one of the funniest, most tender stories I've read about improbable cacti, dying fathers, and desert survival skills . . . a nuanced and authentic portrayal of grief." —Locus Magazine

"There is nothing obvious about Broder's searching, or the tenderness she visits on characters who fail to save those they love from pain and death." —Annie Liontas, Electric Literature


"Bursting with jokes, abounding with existential crisis, Broder again puts forward her absurdist, provocative philosophy." —Bustle, Most Anticipated Books of Fall 2023

"A riotous victory . . . Broder has illuminated a tale of grief and loss with her characteristic wit and insight. The result is as dazzlingly brilliant as a desert sunset." —Pop Matters

"Grab a tall glass of water before cracking open this surreal, darkly funny novel. . . . You'll find yourself mesmerized by the story as much as the deeper lessons beneath it."—Good Housekeeping

"An exhilarating med­itation on death, life, survival and how we rely on stories to get us through it all. It's a triumph for Broder." —Book Page (starred review)

"Infectious and dreamy. . . . Broder's narrator is consistently companionable. . . . Readers ought not to miss this magical tale of survival." —Publishers Weekly (starred review)

"As wise in its way as any spiritualism about vision quests or finding enlightenment. . . . A 100 percent Broder take on grief and empathy: embodied but cerebral, hilarious but heart-wrenching." —Kirkus Reviews

"A journey unlike any you've read before. Death Valley is a beautifully wild leap into the mysterious desert that is grief." —Nana Kwame Adjei-Brenyah, author of Chain-Gang All-Stars and Friday Black

"Death Valley is a glorious mirage of a book. This is a mischievous and moving novel of prickly wonders, where the indignities of life are monumental, and the inanimate world only comes alive in the lonely glow of loss. Broder's writing is a brilliant, zany compass, leading us from the sorrow of existence toward the hilarity of someday having to die." —Hilary Leichter, author of Temporary

"Darkly funny and full of exuberant, pitch-perfect sentences, Death Valley is also a glorious departure for Melissa Broder: a heartrending exploration of daughterhood, a deep dive into anticipatory grief, and a hardcore story of survival. Broder's unforgettable new novel is vulnerable, witty, trippy, and conceptually dazzling all at once—a brilliantly inventive book from an absolutely brilliant writer." —Kimberly King Parsons, author of Black Light: Stories

"I've never read a novel that portrays grief quite like Death Valley. Melissa Broder captures both the punishing ordinariness of loss while also showing us how extraordinary it is to have been here at all. There is deep wisdom in these pages." —Mary Beth Keane, author of Ask Again, Yes and The Half Moon