Becoming the Boogeyman (Hardcover)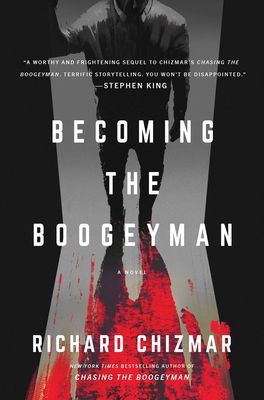 Description
---
The terrifying sequel to the acclaimed New York Times and USA TODAY bestselling novel Chasing the Boogeyman, which was hailed as "genuinely chilling and something brand-new and exciting" (Stephen King) and "unforgettable" (Harlan Coben).

A riveting, haunting sequel to the New York Times bestselling thriller Chasing the Boogeyman—a tale of obsession and the adulation of evil, exploring modern society's true-crime obsession with unflinching honesty, sparing no one from the glare of the spotlight. Will those involved walk away from the story of a lifetime in order to keep their loved ones safe? Or will they once again be drawn into a killer's web? As the story draws to its shattering conclusion, only one person holds all the answers—and he just may be the most terrifying monster of them all.
About the Author
---
Richard Chizmar is the coauthor (with Stephen King) of the New York Times bestselling novella Gwendy's Button Box and Gwendy's Final Task, and author of the solo work Gwendy's Magic Feather. Recent books include The Girl on the Porch; The Long Way Home, his fourth short story collection; and Widow's Point, a chilling tale about a haunted lighthouse written with his son, Billy Chizmar, which was recently made into a feature film. His short fiction has appeared in dozens of publications, including Ellery Queen's Mystery Magazine and The Year's 25 Finest Crime and Mystery Stories. He has won two World Fantasy awards, four International Horror Guild awards, and the HWA's Board of Trustee's award. Chizmar's work has been translated into more than fifteen languages throughout the world, and he has appeared at numerous conferences as a writing instructor, guest speaker, panelist, and guest of honor. He is the author of Chasing the Boogeyman. Follow him on Twitter @RichardChizmar or visit his website at: RichardChizmar.com.
Praise For…
---
"Becoming the Boogeyman is a worthy and frightening sequel to Chizmar's Chasing the Boogeyman. Terrific storytelling. You won't be disappointed." —Stephen King

"Becoming the Boogeyman is a compulsive, utterly immersive twist of fact and fiction. Richard Chizmar masterfully blends reality and imagination to deliver something wholly original and totally gripping from start to finish. I couldn't stop turning the pages, even when I wanted to turn away. Don't miss this edge-of-your seat chiller that will keep you guessing—and guessing again." —Lisa Unger

"Becoming the Boogeyman is at times almost unbearably suspenseful and at times incredibly poignant. Richard Chizmar delves deep into our worst fears and touches the darkness that lives there. An amazing book." —S. A. Cosby

"Becoming the Boogeyman is Richard Chizmar at his most original and creative. A book that is as fun as it is smart and scary. I love the Boogeyman books so much!" —Caroline Kepnes

"A deliciously chilling follow-up to Chasing the Boogeyman—suspenseful, unsettling, and absolutely compelling. I couldn't put it down." —Meg Gardiner

"Richard Chizmar has pulled off one hell of a sequel, delivering the rare thriller that is truly original and unlike anything else you'll read this year. While the tension is high and the chills plentiful, it is the human heart of the book that lingers once the tale is told." —Michael Koryta

"Sinuous and twisting and utterly unputdownable, Becoming the Boogeyman slices deep from the start and twists the knife until the very end. I was terrified, moved, and gripped by turns. A tour de force." —Catriona Ward

"Chasing the Boogeyman was brilliant. Becoming the Boogeyman is even better. An engrossing mystery, a chilling portrayal of obsession, and a terrifying take on how we commercialize evil and condemn the innocent. Fascinating, gruesome, heartbreaking, and chilling. This is masterful storytelling that will hold you in its icy claws to the very bitter end." —C. J. Tudor

"Richard Chizmar knows his way around a frightening story...deeply unsettling...[he] blends reality and fantasy in a way that can only be described as intoxicating: heightening your emotions, blunting your skepticism, and luring you into trouble." —Vanity Fair

"Like its predecessor, Chasing the Boogeyman, this is a novel that masquerades as fact, and does so to startling effect, the reader never quite knowing what is fact and what is fiction. And like his friend and former co-author Stephen King, Chizmar is a master of capturing the horrors beneath the surface of suburbia. King would certainly approve here—this is stunning." —Daily Mail (UK)