Rainbow Rainbow: Stories (Paperback)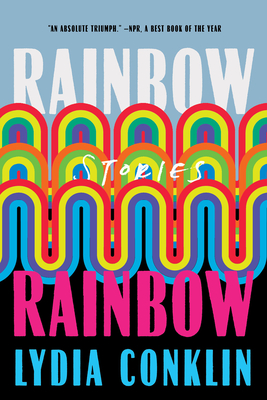 Description
---
Longlisted for The Story Prize & the PEN/Robert W. Bingham Prize for Debut Short Story Collection

A fearless collection of stories that celebrate the humor, darkness, and depth of emotion of the queer and trans experience that's not typically represented: liminal or uncertain identities, queer conception, and queer joy

In this exuberant, prize-winning collection, queer, trans, and gender-nonconforming characters seek love and connection in hilarious and heartrending stories that reflect the complexity of our current moment.

A nonbinary writer on the eve of top surgery enters into a risky affair during the height of COVID. A lesbian couple enlists a close friend as a sperm donor, plying him with a potent rainbow-colored cocktail. A lonely office worker struggling with their gender identity chaperones their nephew to a trans YouTube convention. And in the depths of a Midwestern winter, a sex-addicted librarian relies on her pet ferrets to help resist a relapse at a wild college fair.

Capturing both the dark and lovable sides of the human experience, Rainbow Rainbow establishes debut author Lydia Conklin as a fearless new voice for their generation.
About the Author
---
Lydia Conklin has received a Stegner Fellowship, a Rona Jaffe Foundation Writer's Award, three Pushcart Prizes, a Creative Writing Fulbright in Poland, a grant from the Elizabeth George Foundation, scholarships from Bread Loaf, and fellowships from Emory, MacDowell, Yaddo, Hedgebrook, Djerassi, and elsewhere. Their fiction has appeared in Tin House, American Short Fiction, and The Paris Review. They've drawn comics for The New Yorker, The Believer, Lenny Letter, and elsewhere. They are currently the Zell Visiting Professor of Fiction at the University of Michigan.
Praise For…
---
Longlisted for The Story Prize & the PEN/Robert W. Bingham Prize for Debut Short Story Collection

NPR, A Best Book of the Year
Debutiful, A Best Book of the Year
Publishers Weekly, A Best Summer Read
Named a Most Anticipated Book by TIME, Nerd Daily, Lit Hub, LGBTQ Reads, Electric Literature, The Millions, and Seahawk

"For far too long, queer, trans and non-binary people have been massively underrepresented in American fiction. Debut author Lydia Conklin aims to change that with their beautiful short story collection. The stories here tackle complex issues of identity and self-discovery with sometimes heartbreaking insight; Conklin doesn't shy away from addressing their characters' often painful journeys. This is an absolute triumph of a book." —Michael Schaub, A NPR Best Book of the Year

"Explores and celebrates uncertain and transitory moments of gender identity with humor and verve." —The New York Times Book Review

"Highlights queer, gender-nonconforming, and trans characters. Most are seeking some sense of connection . . . Conklin portrays them all with warmth and compassion."—Time, A Most Anticipated Book of the Year

"Lydia Conklin's timely debut, Rainbow Rainbow, should be celebrated as both a work of activism and a literary triumph . . . Reading about these poignant inner lives is absorbing and thought-provoking." —Rigoberto González, San Francisco Chronicle

"Conklin's immense storytelling acumen is on incredible display here within every tale and on every page. Don't miss this one." —Jim Piechota, The Bay Area Reporter

"Dazzling . . . Compulsively readable." —Emma Specter, Vogue

"Gleefully queer . . . Rainbow Rainbow weaves between hope and despair, love and fear as its characters—a lesbian comics artist, a sex addict, a trans vlogger, various teenagers coming-of-age (and into their sexuality)—wrestle with the fraught dynamics of gender identity and queer romance in the 21st century." —Lauren Puckett-Pope, Elle

"Effervescent . . . Conklin's compassionate stories are so accomplished and sure-footed that you'll be shocked to learn this is their debut." —Adrienne Westenfeld, Esquire

"If you dig queer stories, these are the queerest of the queer! Full of joy, nerve and verve, this debut collection is a stunner." —Karla Strand, Ms.

"Lydia Conklin's Rainbow Rainbow offers readers a masterful collage of perspectives from people living—or trying to live—their best possible lives. It's real, raw, and occasionally brutal, but queer and trans readers will find many of their feelings and experiences reflected here." —K.W. Colyard, Bustle

"Dazzlingly immersive . . . There is darkness and shadow here alongside humor and wit. The characters feel alive as Conklin expertly navigates the tricky, awkward, beautiful, and horrifying moments that life will always present. Rainbow Rainbow is playful at the same time that it poses existential questions of morality, truth, good, bad, and everything in between." —Sarah Neilson, Shondaland

"Delightful . . . Expect to cry and laugh at these unlikely tales of humanity." —Maybelle Morgan, Refinery29

"Queer in every way . . . Immersive . . . Laugh-out-loud funny." —Sarah Neilson, A Them Best Book of Summer

"From the the very first story about a lesbian couple in perpetual conflict over procreation, Conklin cements their mastery at creating fascinating, flawed, nuanced, and truly human characters whose feelings, desires, and insecurities bleed from every page . . . At times funny, at times sexy, and at times downright uncomfortable, it's a sharply drawn collection in which many will no doubt find not just an entertaining and compelling read, but kinship and clarity." —Dahlia Adler, BuzzFeed

"Captivating and brimming with love for queer life in all its weird glory, Lydia Conklin's debut collection is by turns exuberant, tragic, funny, and whisper-quiet. Conklin's luminescent portrayals open a doorway into the queer universe for readers of all stripes. Walk through, Conklin beckons, make yourself at home. . . . The stories feel high-stakes and riveting, every last one . . . The book is a deeply necessary and urgent showcase of sorts: a place for readers to learn and re-learn themselves, a place of complexity and confrontation and joy . . . Rainbow Rainbow invites readers to realize themselves, however they are now, and however they will be." —Kasey Peters, Chicago Review of Books

"Vibrant, heartfelt, and incredibly crafted." —Electric Literature, A Best Book of the Year

"Fiction-as-talisman . . . There is so, so much to love in this collection: its melancholic realism, its desperate and heartfelt protagonists, its narrative willingness to follow through with consequences rather than to flinch from the implications of a story's action . . . Rainbow Rainbow is a cat's-cradle strong enough to catch even the nerviest reader (me), a safety net for the most easily bruised parts of our hearts." —Yashwina Canter, Autostraddle

"Conklin has a masterful grasp on how to craft the short story from character to tone; from humor to thought-provoking. These short stories should be studied by any aspiring writer." —Debutiful, A Best Debut Book of the Year

"Embracing eagerness and insecurity, doubt and fortitude, Conklin's ten tales resonate through the characters' dynamic moments of realization." —Booklist

"Conklin introduces themself as a writer to watch with these open-eyed, tenderhearted, well-crafted stories." —Kirkus Reviews (starred review)

"Conklin brings nuance and compassion to the subject matter and displays a captivating interest in human contradiction. Conklin's command of structure ensures that each story has a satisfying arc, but most impressive is the author's precise and evocative prose . . . This talented writer is brimming with skills and heart." —Publishers Weekly (starred review)

"Throughout, Conklin is gracefully multi-note as they reveal the complexities of queer relationships, always allowing their characters to be themselves." —Library Journal