Brooms (Paperback)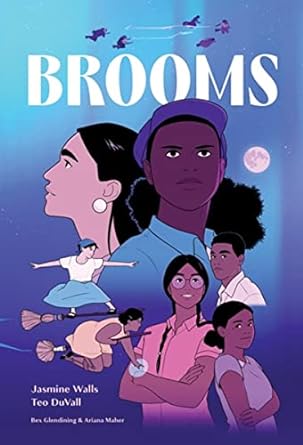 Description
---
It's 1930s Mississippi. Magic is permitted only in certain circumstances, and by certain people. Unsanctioned broom racing is banned. But for those who need the money, or the thrills...it's there to be found.

Meet Billie Mae, captain of the Night Storms racing team, and Loretta, her best friend and second-in-command. They're determined to make enough money to move out west to a state that allows Black folks to legally use magic and take part in national races.

Cheng-Kwan – doing her best to handle the delicate and dangerous double act of being the perfect "son" to her parents, and being true to herself while racing.

Mattie and Emma -- Choctaw and Black -- the youngest of the group and trying to dodge government officials who want to send them and their newly-surfaced powers away to boarding school.

And Luella, in love with Billie Mae. Her powers were sealed away years ago after she fought back against the government. She'll do anything to prevent the same fate for her cousins.  

Brooms is a queer, witchy Fast and the Furious that shines light on history not often told – it's everything you'd ever want to read in a graphic novel. 
 
About the Author
---
Jasmine Walls is a writer, artist, and editor with former lives in professional baking and teaching martial arts. She still bakes (though she's pretty rusty at martial arts) and has a deep love for storytelling, creating worlds, and building tales about the characters who inhabit them. Along with Levine Querido, she has works published with Boom! Studios, Capstone, Oni Press, The Atlantic, and The Nib. She lives in California with two dogs and a large stash of quality hot chocolate.

Teo DuVall is a queer Chicanx comic artist and illustrator based in Seattle, WA. They graduated in 2015 with a BFA in Cartooning from the School of Visual Arts and have had the immense pleasure of working with Levine Querido, HarperCollins, Dark Horse, Chronicle Books, Scholastic and more. He has a passion for fantasy, aesthetic ghost stories, and witches of color, and loves being able to create stories for a living. Teo lives with his partner, their two pets -- a giant, cuddly pit-bull, and a tiny, ferocious cat -- and a small horde of houseplants.
Praise For…
---
Publishers Weekly's Top 10 YA Graphic Novels for Fall '23
"A sweet, entertaining found-family story that weaves magic with historical injustice; recommended for teen graphic novel shelves." – School Library Journal 
"This is the queer, magical, broom-racing version of A League of Their Own that I didn't know I was missing… The representation in this graphic novel is so diverse and among the best I think I've ever seen. It's clear that Walls and Duvall put equal parts passion and research into this beautiful story. If you don't read it, you're missing out." – Rachel Brittain, Book Riot
[STAR] "Pulse-pounding broom races and comforting domestic sequences… An evocative Fast and the Furious–flavored graphic novel." — Publishers Weekly (starred) 
"Six witches get caught up in the excitement and danger of illegal broom racing in an alternate historical Mississippi… highlights the broadly diverse experiences of folks in the South… highlighting the fact that there has always been and will always be room for queer folks in our communities." – Kirkus 
[STAR] "
Brooms
… draws on the fantastical to amplify and confront issues of both the past and the present. The result is a heartfelt, gripping, and resonant story about power—how the majority wields it, and how marginalized groups reclaim it." —
Bulletin of the Center for Children's Books
(starred)
[STAR] "Fascinating… Though readers will enjoy the dramatic racing scenes, this is truly a story about queer folk and people of color who have created a space where they can joyously and freely be themselves."—
Booklist
(starred)
"[A] mix of exciting racing scenes, a story about overcoming the odds, and mesmerizing depictions of magic, plus some of the not-so-pretty parts of our country's history, and it's done in a way that is compassionate and uplifting." –
GeekDad
"
Brooms
Is Your Next Favorite Fantastical LGBTQIA+ Sports Story" –
The Mary Sue
[STAR] "Fascinating… Though readers will enjoy the dramatic racing scenes, this is truly a story about queer folk and people of color who have created a space where they can joyously and freely be themselves."—
Booklist
(starred)
"Brings vivid characters (queer, broom-racing witches) to life in an equally vivid setting."—
Gizmodo (io9)