How We Live Is How We Die (Paperback)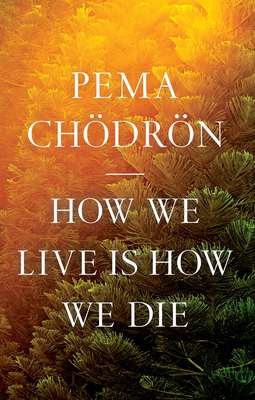 Description
---
Discover newfound freedom in life's ever-constant flow of endings and beginnings with the wise words of Pema Chödrön, beloved Buddhist nun and bestselling author of When Things Fall Apart​.

New in paperback! ​​



As much as we might try to resist, endings happen in every moment—the end of a breath, the end of a day, the end of a relationship, and ultimately the end of life. And accompanying each ending is a beginning, though it may be unclear what the beginning holds. In How We Live Is How We Die, Pema Chödrön shares her wisdom for working with this flow of life—learning to live with ease, joy, and compassion through uncertainty, embracing new beginnings, and ultimately preparing for death with curiosity and openness rather than fear.

Poignant for readers of all ages, her teachings on the bardos—a Tibetan term referring to a state of transition, including what happens between this life and the next—reveal their power and relevance at each moment of our lives. She also offers practical methods for transforming life's most challenging emotions about change and uncertainty into a path of awakening and love. As she teaches, the more freedom we can find in our hearts and minds as we live this life, the more fearlessly we'll be able to confront death and what lies beyond. In all, Pema provides readers with a master course in living life fully and compassionately in the shadow of death and change.
About the Author
---
PEMA CHÖDRÖN is an American Buddhist nun in the lineage of Chögyam Trungpa and resident teacher at Gampo Abbey in Nova Scotia, the first Tibetan Buddhist monastery in North America established for Westerners. She is the author of many bestselling books, including When Things Fall Apart and Welcoming the Unwelcome.
Praise For…
---
"Chödrön's clarity and warmth make this book accessible to a wide array of audiences. . . . Oft-quoted, much beloved, and radiating kindness, Chödrön remains a guiding light for those seeking spiritual growth."—Library Journal

"In this sage treatise, Buddhist nun Chödrön muses philosophically on life transitions. . . . This wise volume shines."—Publishers Weekly

"Instructive, compassionate, and welcoming, How We Live Is How We Die works to ease fearful attitudes toward death and improve people's daily lives through spiritual renewal and release."—Foreword Reviews

"A means of transmitting the wisdom and light of [the Bardo Tödrol] into the modern world. In a time when people would most like to dwell in the illusion of certainty, Chödrön reminds readers to recognize beauty in unpredictability and to relinquish their grip on a reality that is, and will always be, in flux."—Shelf Awareness