Coral's Reef Vol. 1 (Paperback)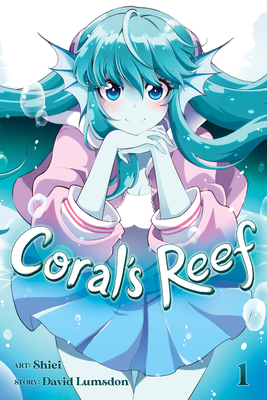 $13.99

Usually Ships in 1-5 Days
Description
---
A full-color fantasy manga/graphic novel series about the fun daily life of a teenage sea sprite!

An all-new tale for kids and adults from the creative team behind My Little Pony: The Manga (also from Seven Seas).

Meet Coral, a sweet-natured girl who lives with her parents, kid sister Maki, and pet sea otter in the seaside town of Reef Beach. She's no different than any other teenager--except like all inhabitants of New Lemuria, she's not quite human. Coral is a sea sprite, and when not at school, or helping out in her mom's dress shop, or hanging out with friends, she's out catching waves on her beloved surfboard. But Coral's life is about to turn upside down once dreamy fire ifrit, Nick Inferno, comes to town. How can she not crush on this boy who is literally burning hot?!
About the Author
---
David Lumsdon is an award-winning writer who lives in Ottawa and has been an avid comics reader (of all kinds) since a very young age. He is best known for writing My Little Pony: The Manga and for writing and collaborating on many of Pixie Trix Comix's most iconic series including Ma3, Eerie Cuties, Magick Chicks, Dangerously Chloe, and Sandra on the Rocks.

Shiei is a New York Times bestselling manga artist who has drawn over twenty volumes of manga including My Little Pony: The Manga, Amazing Agent Luna, Aoi House, Vampire Cheerleaders, and Avalon: The Warlock Diaries. She has also provided manga artwork for The Illustrated Fairy Tale Princess Collection and an illustrated edition of Pride & Prejudice. She currently lives in southern California.