Oregon and Washington's Roadside Ecology: 33 Easy Walks Through the Region's Amazing Natural Areas (Paperback)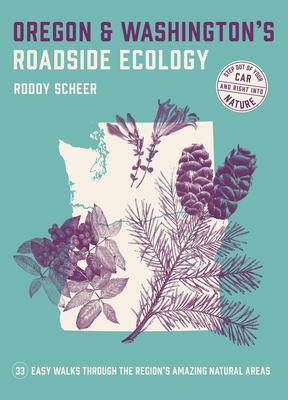 Description
---
Discover natural history secrets hiding in plain sight

Have you ever seen a raging river disappear completely into a lava tube? Petrified subtropical plants in the middle of a high desert? Do you know how a 10,000-year-old argillite boulder can wind up 800 miles away from any similar rocks? In this insightful guide, environmental journalist and photographer Roddy Scheer reveals the hidden stories of the Pacific Northwest's unique ecosystems and teaches you how to "read a landscape," as you explore 33 spectacular natural areas. All hikes are within easy walking distance of the road, less than two miles long, and include clues to deciphering the terrain—making Oregon and Washington's Roadside Ecology a must-have guide to some of the area's most spectacular and unusual natural sights.
About the Author
---
Roddy Scheer is a journalist and photographer specializing in environmental issues, the outdoors, and travel. When he is not out in the field taking pictures, Roddy runs EarthTalk.org, a weekly environmental newsletter that is syndicated to 1100 media outlets and reaches 6 million readers. He has served as a regular contributor to E-The Environmental Magazine, Seattle Magazine, Northwest Travel, American Photo, PhotoMedia, Wildflower, and others. He is a three-time Society of Professional Journalists "Excellence in Journalism" winner.
 
Praise For…
---
"A must-have guide to some of the area's most spectacular and unusual natural sights." —The Good Men Project