Love in Winter Wonderland (Hardcover)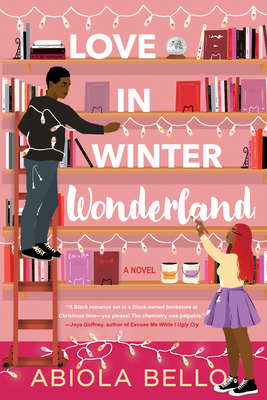 Description
---
The Sun Is Also a Star meets You've Got Mail in this YA Christmas love story set in a London Black-owned bookshop.

Charming, handsome Trey Anderson balances the pressures of school popularity with a job at his family's beloved local bookshop, Wonderland.

Quirky, creative Ariel Spencer needs tuition for the prestigious art program of her dreams, and an opening at Wonderland is the answer. When Trey and Ariel learn that Wonderland is on the brink of being shut down by a neighborhood gentrifier, they team up to stop the doors from closing before the Christmas Eve deadline—and embark on a hate-to-love journey that will change them forever.

Heartwarming and romantic, this read is the gift that keeps on giving, no matter the season.
About the Author
---
Abiola Bello is a British-Nigerian author from London, England. She is the bestselling, award-winning author of the children's series Emily Knight I Am and contributed to The Very Merry Murder Club anthology. Love in Winter Wonderland is her debut YA. Abiola has won London's BIG Read 2019, was a finalist for the People's Book Prize Best Children's Book and was nominated for the Yoto Carnegie Award.
Praise For…
---
Praise for Love in Winter Wonderland

Best Books to Gift from Book Riot's Hey YA Podcast
An ABA's Best Books for Young Readers
A PNBA Bestseller

"Brimming with heart-swelling chemistry and witty bookworm banter . . . A charming young adult book that will give you all the warm fuzzies."
—Reader's Digest

"Soho is one of the nation's most versatile indie presses, known for publishing both literary and crime fiction (and Mick Herron's Slough House books). They also have a strong young adult roster, and those looking for a holiday gift for a teen reader might be interested in Bello's novel about two young book lovers who fall for each other while working at a Black-owned bookstore."
—Michael Schaub, Los Angeles Daily News

"A sweetly seasonal YA romance, interwoven with thoughtful commentary on the Black Lives Matter movement and the importance of community."
—The Guardian

"Abiola Bello introduces us to a winter fairy tale of love, where snowflakes and romance dance together. This heartwarming story explores the magic of the season and reminds us that sometimes love is the greatest gift."
—City Magazine Slovenia

"Love in Winter Wonderland sparkles and shines right off the page thanks to gorgeous writing, witty dialogue, a magical setting and two characters you'll fall head over heels for as they're falling for each other. I love, love, love this book!"
—Jennifer Niven, author of All the Bright Places

"A Black romance set in a Black-owned bookstore at Christmas time—yes please! The chemistry was palpable. The pacing kept me turning pages all night. And the story has stayed with me long after putting it down—the perfect gift for Black girls who crave a screen-worthy holiday romance."
—Joya Goffney, author of Excuse Me While I Ugly Cry

"A dazzling love letter to bookshops, and the power of community."
—Adiba Jaigirdar, author of Hani and Ishu's Guide to Fake Dating

"Like your favourite Christmas song, Love in Winter Wonderland is full of warmth, humour and joy. It's both a celebration of community and an affirmation of how thoughtful young love can be. A delightful read!"
—Michelle Quach, author of Not Here to Be Liked

"A GORGEOUS YA story of family, friendships, community, crowdfunding, art, books and romance, set in a Black-owned bookshop around Christmas. Heartwarming and heart lifting, it's an absolute JOY that made me cry buckets of happy tears."
—Sophie Anderson, author of The House with Chicken Legs

"Love in Winter Wonderland is charming, heartwarming and perfect cosy reading in the countdown to Christmas, complete with the perfect holiday soundtrack! Ariel and Trey are such engaging and relatable characters that you can't help but wish they were your friends."
—Ciara Smyth, author of Not My Problem

"Look no further for your ultimate Christmas read – this is it! Abiola has crafted a story so charming and fun it will whisk you away. Bonus points for the superb playlists mentioned throughout too. I felt like Trey and Ariel were real people who I genuinely miss spending time with now the book is over. It has TikTok sensation written all over it!"
—Laura Jane Williams, author of Our Stop

"I devoured this delicious YA rom-com. I adored the festive Christmas time setting, but Love in Winter Wonderland is a treat to read any time of year."
—Katherine Webber, author of Twin Crowns

"The most joyful, cosy and swoon-worthy love story. It'll feel like Christmas no matter what time of the year you read it."
—Kate Weston, author of Diary of a Confused Feminist

"What a wonderfully warm love story. I fell head over heels for our dark-skinned, curvy, redhead wonder Ariel as her character represents so much of what I wanted to read about as a teen. I think this book would be a very welcome title in any YA readers selection. Cheers to Wonderland!" 
—Candice Brathwaite, author of Cuts Both Ways and I Am Not Your Baby Mother

"A heartwarming and uplifting story set in a Black-owned bookshop. This is the book we all NEED this winter. Gorgeous and joyous."
—A. M. Dassu, author of Boy, Everywhere

"Original, exceptional, wholesome, and fun . . . [For] fans of Christmas themed romance novels, Love in Winter Wonderland by Abiola Bello is a 'must' choice for the personal reading lists."
—Midwest Book Review

"Snug, heartwarming, and sweet . . . A slow-burn romance with excellent character growth, Bello's [YA] debut has the feel of a quintessential Hallmark movie but in book form."
—Booklist

"Swoonworthy . . . With a feel-good conclusion featuring a kiss in the snow, an unexpected celebrity appearance, and a romantic playlist, Love in Winter Wonderland is a sweet novel."
—Foreword Reviews

"Shimmers with holiday magic . . . A sweet opposites-attract romance enriched by affecting moments of emotional vulnerability."
—Kirkus Reviews