Lilith: A Novel (Paperback)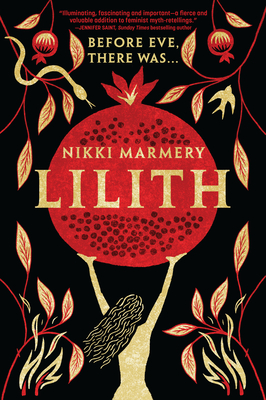 $18.99
Email or call for price
Description
---
A triumphantly feminist retelling of ancient creation myths in the tradition of Madeline Miller and Claire North.

Lyrically rendered, this epic U.S. debut tells the story of the woman known as Adam's first wife and her fall from Paradise and quest for revenge.

Before Eve, there was Lilith.

Lilith and Adam are equal and happy in the Garden of Eden. Until Adam decides Lilith should submit to his will and lie beneath him. She refuses—and is banished forever from Paradise.

Demonized and sidelined, Lilith watches in fury as God creates Eve, the woman who accepts her submission. But Lilith has a secret: she has already tasted the fruit of the Tree of Knowledge. Endowed with Wisdom, she knows why Asherah—God's wife and equal, the Queen of Heaven—is missing. Lilith has a plan: she will rescue Eve, find Asherah, restore balance to the world, and regain her rightful place in Paradise.

Lilith's quest for justice drives her throughout history, from the ziggurats of Ancient Sumer, to the court of Israel's Queen Jezebel, and to the side of a radical preacher in Roman Judea. Noah's wife, Norea, Jezebel and Mary Magdalene all play their part in Lilith's enlightenment. In the modern age, as she observes the catastrophic consequences of a world built on inequality, Lilith finally understands what must be done to correct the wrong done to women—and all humankind—at the beginning of time.

Inspired by ancient myths and suppressed scriptures, Lilith is a thought-provoking and ambitious novel with an evocative literary voice and a triumphantly engaging heroine.
About the Author
---
For many years, Nikki Marmery worked as a journalist, editing magazines about foreign exchange and credit trading. She now writes historical fiction from a small village in the Chilterns.
Praise For…
---
Praise for Lilith:
"Stellar . . . This feminist reimagining of the Bible will grip readers." 
—Publishers Weekly, starred review

"A sweeping fairy tale . . . Quick and imaginative . . . An engaging feminist revision of the ancient world's Abrahamic religions."
—Kirkus Reviews

"A ferocious, heterodox mythic novel that upends notions of divinity, femininity versus masculinity, and human beings' responsibility toward one another and the earth."
—Foreword Reviews, starred review

"Imaginative, provocative, and timely."
—Historical Novels Review

"Illuminating, fascinating and important—a fierce and valuable addition to feminist myth-retellings."
—Jennifer Saint, Sunday Times bestselling author of Ariadne

"Exquisite prose brings this compelling, highly relevant tale of Adam's first wife to life."
—Laura Shepperson, Sunday Times bestselling author of Phaedra

"Electric and empowering."
—Niamh Boyce, No. 1 bestselling author of Her Kind

"[A] joyous rampage through Biblical history."
—Alice Albinia, author of Guardian Book of the Year Cwen

"A fun and thought-provoking journey . . . Daring, fresh and playful."
—Ann Morgan, internationally bestselling author of Crossing Over

"A poetic voice, at once ancient and modern."
—Kathleen B. Jones, author of Cities of Women

"A wonderfully subversive novel."
—Joanne Burn, author of The Hemlock Cure

 "Fans of Madeline Miller and Jenny Saint will love this evocative feminist retelling."
—Rosie Andrews, author of The Leviathan

"A primal cry echoing through the centuries."
—Luna McNamara, author of Psyche and Eros

"Exquisitely written and full of wit and female rage."
—Rani Selvarajah, author of Savage Beasts

"The most powerful, audacious, hopeful novel I've ever read."
—Louise Morrish, author of Operation Moonlight

"One of the most gloriously feminist myth-meets-historical-fiction novels."
—Susan C. Wilson, author of Clytemnestra's Bind

"A sumptuous feast and furious tornado of a novel."
—Maggie Brookes, author of Acts Of Love And War

"A rich, vividly written story of passion, betrayal and female rage."
—Sophie Keetch, author of Morgan Is My Name

"Ambitious and intriguing, Lilith tackles patriarchy while imagining a better world for all."
—Elyse John, author of Orphia and Eurydicius

"An utterly illuminating novel—original, bold, compelling."
—Susan Stokes Chapman, author of Pandora

"Beautifully written, thought-provoking, and always true to its heroine."
—Costanza Casati, author of Clytemnestra