Let's Get Quizzical: A Novel (Paperback)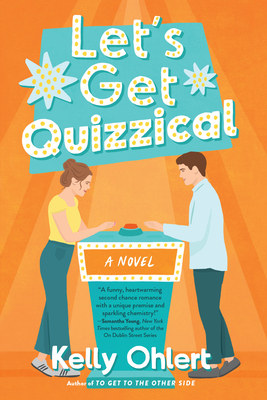 Description
---
For fans of Lyssa Kay Adams and Jen DeLuca comes this fresh, funny take on second chances that proves love is anything but trivial.

For family-focused Charlotte, the chance to compete on her favorite trivia game show is a dream come true—the prize money could ensure the best care for her aging grandmother. But when she arrives on set, who does she see among the other contestants? Eli, her high school first love, at least until their shattering breakup. He has his own reasons for competing, not least of which is the stress of multiple jobs, college courses, and a father who has had multiple run-ins with the law.

When the casting department pairs them on a team, both Charlotte and Eli are determined to grit their teeth and make the best of it. That's easier said than done, of course, and before long a national audience is breathlessly watching them bicker and air years-old grudges. Far from being angry, the program's producers are ecstatic—the ratings are positively soaring.

As they compete together over several episodes of the show, Charlotte and Eli begin to suspect that old wounds might actually heal. Touring L.A. in their free time has given them the opportunity to get to know each other again—and reawakened feelings that are hard to resist. Until the show's producers throw a wrench in their hopeful plans that will compromise everything Charlotte and Eli have worked so hard for.

Kelly Ohlert's warm, witty second novel proves that the best thing to know is always your own heart.
About the Author
---
Kelly Ohlert loves books about… well, love! Since laughter is the best medicine, she's only doing her civic duty to heal human souls by incorporating humor as well. She's a lifelong avid reader of all genres, and as a busy mom has an enthusiastic appreciation for audio books and multi-tasking.
Kelly grew up in the Chicago area, but moved to attend Western Michigan University. She stuck around Michigan, hopping from city to city. Her meet cute involved "borrowing" that hot guy's baseball cap, and it's been love ever since. She, her husband (the aforementioned ball cap owner), and their two daughters reside in the Lansing area, with their menagerie of pets.
Praise For…
---
Praise for Let's Get Quizzical:
"A whip-smart second-chance romance . . . Readers will be hooked."
—Publishers Weekly

"[A] clever and charming second-chance romance . . . Perfect for fans of rom-coms looking for a story with lots of heart and fun."
—Library Journal

"A funny, heartwarming second chance romance with a unique premise and sparkling chemistry!"
—Samantha Young, New York Times bestselling author of the On Dublin Street Series

"A tender second chance romance filled with complex family dynamics and thoughtful meditations on forgiveness, Let's Get Quizzical got all the answers right for me. The game show at the heart of this book puts money, morals, and romance on the line, making for a fast-paced read that will have you gasping one minute then swooning the next."
—Bridget Morrissey, author of Love Scenes and That Summer Feeling