Grandmaster of Demonic Cultivation: Mo Dao Zu Shi (The Comic / Manhua) Vol. 2 (Paperback)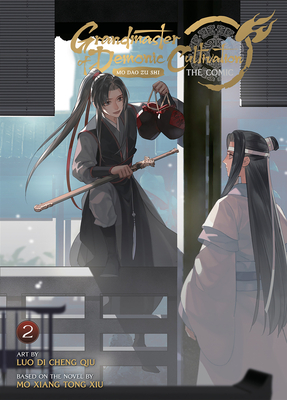 Description
---
THE MANHUA ADAPTATION OF THE NEW YORK TIMES BESTSELLING NOVEL SERIES CONTINUES AS WEI WUXIAN REVISITS A CHAPTER FROM HIS PAST!

After a brush with a renegade deity, Lan Wangji invites Wei Wuxian back to the Lan Clan of Gusu. But Lan Wangji seems different from the young man Wei Wuxian used to know. This Lan Wangji keeps a secret stash of alcohol, puts up with all manner of shenanigans, and even lets Wei Wuxian lie on top of him for an entire night!

What happened to the Lan Zhan who fought with Wei Wuxian over a jug of wine and berated him for slacking off? Travel back to when Wei Wuxian and Lan Wangji were mere youths, to the pair's very first encounter!
About the Author
---
Mo Xiang Tong Xiu (MXTX) is a globally renowned and New York Times' bestselling author whose works are often cited as the most well-known of the modern danmei genre. Originally self-published in Chinese via the novel serialization website, JJWXC, her current novel series include The Scum Villain's Self-Saving System, Grandmaster of Demonic Cultivation, and Heaven Official's Blessing, all available in English from Seven Seas. Her titles have enormously popular multimedia adaptations and have been published in numerous languages around the world.

Luo Di Cheng Qiu is an artist from China best known for the manhua/comic version of Grandmaster of Demonic Cultivation: Mo Dao Zu Shi (also known as MDZS).