Secret Seattle (Seattle Walk Report): An Illustrated Guide to the City's Offbeat and Overlooked History (Hardcover)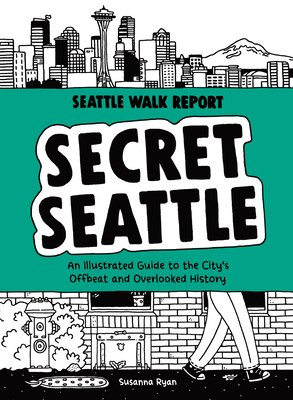 $19.95

Usually Ships in 1-5 Days
Description
---
Capturing the same charm and whimsy she brought to Seattle Walk Report, Instagram darling Susanna Ryan takes things a step further, revealing the forgotten history behind the people, places, and things that shaped Seattle.

Cartoonist and creator of Seattle Walk Report, Susanna Ryan strolls on with a quirky new illustrated guide celebrating Seattle's historical treasures and outdoor wonders. In Secret Seattle, Ryan explores the weird and wonderful hidden history behind some of the city's most overlooked places, architecture, and infrastructure, from coal chutes in Capitol Hill, to the last remainder of Seattle's original Chinatown in Pioneer Square, to the best places in town to find century-old sidewalks. Discover pocket parks, beautiful boulevards, and great public gardens while learning offbeat facts that will make you see the Emerald City in a whole new way. Perfect for both the local history buff who never leaves a favorite armchair to a walking enthusiast looking for offbeat and off-the-beaten-path scavenger hunts.
About the Author
---
Susanna Ryan, the artist behind Seattle Walk Report, is a self-taught cartoonist, illustrator, and designer. After discovering a love for exploring Seattle by foot, she anonymously started the Instagram comic series Seattle Walk Report in 2017. Her first book, Seattle Walk Report, was published in 2019. With her keen eye for Seattle's overlooked landmarks and everyday ephemera, she captures everything that makes the Emerald City magical. Her work has appeared in Seattle magazine, The Stranger, Seattle Refined, The Evergrey, and the Seattle Review of Books, as well as on KOMO News and 107.7 The End.
Praise For…
---
Pacific Northwest Booksellers Association Bestselling Book

"Secret Seattle represents a fresh surge of inspiration into the surprisingly large body of Seattle historical literature. . . By focusing less on the big, bolded names of prominent men in Seattle history books and focusing more on the civic infrastructure and pedestrian delights of street-level Seattle, Ryan is rewriting Seattle's history from the ground up — and she's inviting everyone to take to the streets and do the same."
—Seattle Times

"At its core, Ryan's work foments a relationship between residents and the city. She makes even the most minute details seem new and exciting."
—Seattle Magazine, Most Influential People of 2021

"[O]ne of the most interesting local history books to be published in the Pacific Northwest in years."
—KIRO Radio

"Ryan's book reminds us that to know a city you have to get out and walk around. . . Ryan's work is so charming and engaging that she's already made herself one of those delightful details of city life by virtue of her ability to see the unseen and draw it engagingly. If a city is in its details, you'll find much of it in her books."
—Crosscut