Moon Vancouver & Canadian Rockies Road Trip: Victoria, Banff, Jasper, Calgary, the Okanagan, Whistler & the Sea-to-Sky Highway (Travel Guide) (Paperback)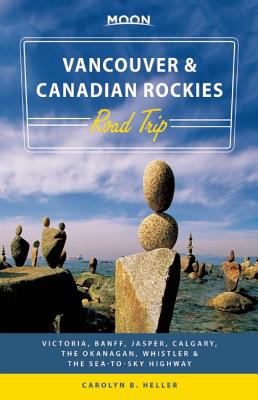 Email or call for price 360-452-6367, pbnturner@olympus.net
Description
---
Hit the Road with Moon Travel Guides!
From the ocean to the mountains, Moon Vancouver & Canadian Rockies Road Trip will take you off the beaten path and into the heart of Western Canada. Inside you'll find:
Maps and Driving Tools: 49 easy-to-use maps keep you oriented on and off the highway, along with site-to-site mileage, driving times, detailed directions for the entire route, and full-color photos throughout
Eat, Sleep, Stop and Explore: With lists of the best hikes, views, and more, you can hike the Rocky Mountains, canoe in Lake Louise, go wine-tasting in the Okanagan, or snorkel with seals in the Pacific
Flexible Itineraries: Drive the entire two-week road trip, or follow strategic routes like a week-long drive along the coast of British Columbia, as well as suggestions for spending time in Victoria, Vancouver, Banff, Lake Louise, Jasper, and the Okanagan
Local Expertise: Passionate Canadian road-tripper Carolyn B. Heller shares her passion for the mountains, shores, and rich history of Vancouver and the Canadian Rockies
How to Plan Your Trip: Know when and where to get gas, how to avoid traffic, tips for driving in different road and weather conditions, and find suggestions for LGBTQ travelers, seniors, and road trippers with kids
With Moon Vancouver & Canadian Rockies Road Trip's practical tips, flexible itineraries, and local know-how, you're ready to fill up the tank and hit the road.
Looking to explore more of North America on wheels? Try Moon Pacific Northwest Road Trip. Hanging out for a while? Check out Moon Vancouver, Moon British Columbia, or Moon Banff National Park.
About the Author
---
Carolyn B. Heller traveled more than 5,000 miles (8,200 kilometers) across the highways and back roads of western Canada while researching this book. She's been road-tripping since she was a child, and she has continued that road trip tradition with her own daughters, notably in 2003, when she and her then-10-year-old twins traveled across the United States on an epic six-week road trip. Carolyn is an avid traveler and passionate food lover who has eaten on the streets, in fine restaurants, and everywhere in between in more than 40 countries. She is also the author of Moon Toronto & Ontario and Moon Living Abroad in Canada and has contributed to more than 50 other travel and restaurant guides. She's a Vancouver-based correspondent for the Forbes Travel Guide and Viator Travel. Her articles have appeared in the Los Angeles Times, Boston Globe, Perceptive Travel, FamilyFun, Real Weddings, and many other publications. A graduate of Brown University, Carolyn lives with her husband in Vancouver, where you can often find her running on the beach or sampling a new Chinese restaurant. Follow Carolyn's adventures at www.cbheller.com and on Twitter @CarolynBHeller.