Frommer's Easyguide to Seattle, Portland and the Oregon Coast (Easyguides) (Paperback)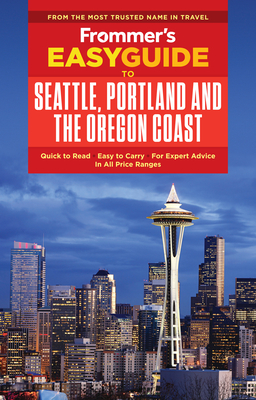 $19.95

Usually Ships in 1-5 Days
Description
---
Everything you need for a successful Pacific Northwest vacation--in one concise and intelligent guide. Seattle is a dynamic metropolis of theaters, museums, shops and superb restaurants; Portland, the City of Roses, is a fun-loving place of numerous beer and arts festivals, alongside theaters, cultural attractions, parks and gardens. As for the Pacific Coast Highway, it supplies a breathtaking motoring experience, all well captured in this new EasyGuide. Author Donald Olson, a longtime Portland resident, has crisscrossed the region and personally visited every place named in this book...and many he deemed not worthy to cover.
This EasyGuide contains:
Printed in large, easy-to-read type
Packed with helpful maps, including a full-color fold-out map
Precise about pricing, with exact amounts listed for every attraction, restaurant, hotel, nightspot and shop in the guide--so there aren't any nasty surprises
Filled with no-holds-barred reviews, which will introduce you to the Pacific Northwest's most appealing lodgings, eateries, museums, historic and nature sights
Savvy about saving money, with tips that work for everyone from luxury-seekers to backpackers
Mindful that your vacation time is limited. So the book includes smart strategies for trips of differing lengths and for travelers with varying interests. It also has a helpful star rating system, allowing the reader to see, quickly, what's worth her time and what can be skipped.
About Frommer's: There's a reason that Frommer's has been the most trusted name in travel for more than sixty years. Arthur Frommer created the best-selling guide series in 1957 to help American servicemen fulfill their dreams of travel in Europe, and since then, we have published thousands of titles became a household name helping millions upon millions of people realize their own dreams of seeing our planet. Travel is easy with Frommer's.