Low & Slow Cooking: 60 Hands-Off Recipes That Are Worth the Wait (Paperback)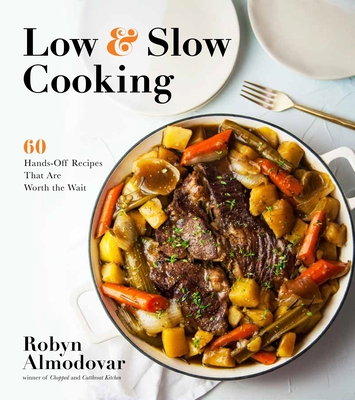 Description
---
There's No Shortcut to Great Flavor

Savor the experience of preparing a well-marinated, slow-simmered roast with Chef Robyn Almodovar, winner of both Chopped and Cutthroat Kitchen. The techniques she's perfected help you master the art of slow cooking to build depth of flavor in every bold, satisfying dish. Her innovative recipes reimagine tried-and-true classics as new, stunning meals including:

• Not Your Ordinary Pot Roast • Nothing Baby about These Ribs • Pork Belly This • Beefed Up Bourguignon • 2-Steppin' Spare Ribs • Dutch Oven Bread • Lamb Shank with Orange Gremolata • Cassoulet, My Way • Piggy Mac

Robyn has found a way to transform cooking from a chore into a joy with showstopping dishes that only call for simple preparation and hands-off cooking so that every roast, shank and chop turns out mouthwateringly tender. Each dish in this book develops a symphony of flavors sure to satisfy any palate.
About the Author
---
Robyn Almodovar received her formal training at Le Cordon Bleu College of Culinary Arts. She is the winner of both Chopped and Cutthroat Kitchen and was a finalist on Hell's Kitchen. She currently owns and operates her own award-winning food truck, Palate Party Gourmet Food Truck and Catering Company. She lives in Fort Lauderdale, Florida.
Praise For…
---
"I have been lucky to have lots of Robyn's food and love her approach to flavor, fun and yummy comfort foods."
—Ingrid Hoffmann, author and host of Food Network's Simply Delicioso
Upcoming Events
10/20/2021 - 7:00pm to 8:00pm

11/17/2021 - 7:00pm to 8:00pm

12/15/2021 - 7:00pm to 8:00pm