Baking Magic with Aquafaba: Transform Your Favorite Vegan Treats with the Revolutionary New Egg Substitute (Paperback)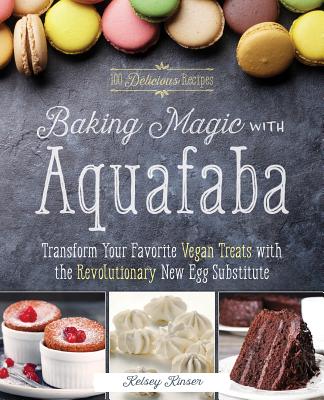 Description
---
Delicious egg-free baked goods using the miraculous bean water
Move over tofu, there's a miraculous new egg replacement in town With baking properties so amazing it can create fluffy quiche and light meringue, aquafaba is the breakthrough ingredient that will revolutionize your vegan baking.
Baking Magic with Aquafaba offers up recipes for creamy sweet treats and rich savory dishes, such as:
- Key Lime Mousse - Chocolate Pirouette Cookies - Lemon Meringue Pie - Birthday Cake Waffles - Pistachio Macarons - Sponge Cake - Rocky Road Ice Cream - Cranberry Orange Scones - Pesto Flatbread - Baked "Mozzarella" Sticks - Hollandaise Sauce - Garlic Aioli
This cruelty-free ingredient is as versatile as it is tasty. It can be whipped into cakes, pie fillings, delicious icings and used as a fat substitute for butters, aiolis and cheeses, without sacrificing texture or flavor.
About the Author
---
Kelsey Kinser is a classically French trained pastry chef. After traveling and working through much of Western Europe to further her pastry knowledge she moved back to New York City where she worked in many high end restaurants, including the premiere vegan and raw food restaurant in the nation. Currently she lives in the Hudson Valley with her husband and their cat. She eats too many marshmallows.
Upcoming Events
10/20/2021 - 7:00pm to 8:00pm

11/17/2021 - 7:00pm to 8:00pm

12/15/2021 - 7:00pm to 8:00pm