Yellowstone National Park Hardcover Ruled Journal (Insights Journals) (Hardcover)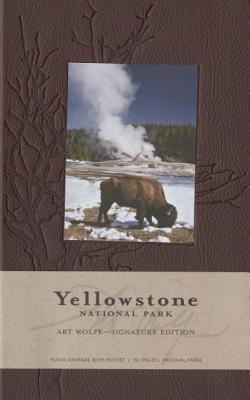 Description
---
Cased in tactually rich, scuff- and fingerprint-resistant leatherette and elegantly debossed, this deluxe journal provides a compelling aesthetic experience, inside and out.

The Yellowstone National Park Hardcover Ruled Journal: Art Wolfe Signature Edition combines the craftsmanship of Earth Aware Editions with spectacular images of Yellowstone National Park by renowned photographer Art Wolfe. In tune with both the majesty and fragility of nature, Wolfe's work captures the beauty of wildlife and landscape while inspiring preservation. In addition to the vibrant, hand-selected, full-color cover image and lush endpapers, the Yellowstone National Park Hardcover Ruled Journal is cased in a deluxe, scuff- and fingerprint-resistant, tactually rich leatherette, which features an elegant deboss.

With sturdy construction and sewn binding, the journal lies flat, and the 192 lined, acid-free pages of high-quality heavy stock paper take both pen and pencil nicely to invite a flow of inspiration. All this, plus a ribbon placeholder, elastic closure, and 7.5 x 4.5–inch back pocket, perfect for holding photographs and mementos, makes this Art Wolfe Signature Edition the ultimate portable parchment for nature and art lovers alike.
About the Author
---
Art Wolfe has worked on every continent and in hundreds of locations capturing stunning images of the world's fast-disappearing wildlife, landscapes, and native cultures. His work is internationally recognized for its subject matter as well as its mastery of color, composition, and perspective. He lives in Seattle, Washington.
Upcoming Events
10/20/2021 - 7:00pm to 8:00pm

11/17/2021 - 7:00pm to 8:00pm

12/15/2021 - 7:00pm to 8:00pm