The Cloud Roads: Volume One of the Books of the Raksura (Paperback)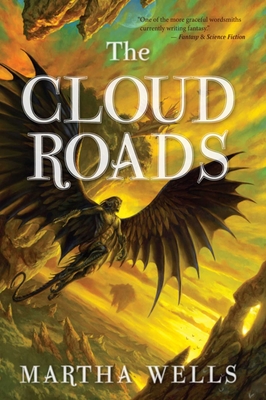 Description
---
Nominated for the 2018 Hugo Award for Best Series. "Wells...merrily ignores genre conventions as she spins an exciting adventure around an alien hero who anyone can identify with."—Publishers Weekly, Starred Review

Moon has spent his life hiding what he is — a shape-shifter able to transform himself into a winged creature of flight.

An orphan with only vague memories of his own kind, Moon tries to fit in among the tribes of his river valley, with mixed success. Just as Moon is once again cast out by his adopted tribe, he discovers a shape-shifter like himself . . . someone who seems to know exactly what he is, who promises that Moon will be welcomed into his community. What this stranger doesn't tell Moon is that his presence will tip the balance of power . . . that his extraordinary lineage is crucial to the colony's survival . . . and that his people face extinction at the hands of the dreaded Fell! Now Moon must overcome a lifetime of conditioning in order to save himself . . . and his newfound kin.

Skyhorse Publishing, under our Night Shade and Talos imprints, is proud to publish a broad range of titles for readers interested in science fiction (space opera, time travel, hard SF, alien invasion, near-future dystopia), fantasy (grimdark, sword and sorcery, contemporary urban fantasy, steampunk, alternative history), and horror (zombies, vampires, and the occult and supernatural), and much more. While not every title we publish becomes a New York Times bestseller, a national bestseller, or a Hugo or Nebula award-winner, we are committed to publishing quality books from a diverse group of authors.
About the Author
---
Martha Wells is the author of more than a dozen science fiction and fantasy novels, including the Ile-Rien series (The Death of the Necromancer), the Murderbot Diaries series (All Systems Red), and the Books of the Raksura (The Cloud Roads). Her work has won the Nebula, Hugo, and LocusAwards, been nominated for the Compton Crook award, and been published in eight languages. Wells lives in College Station, Texas.
Praise For…
---
Praise for The Cloud Roads and The Books of the Raksura
"Breathtakingly surprising and fun. Wells is a master worldbuilder."—The New York Times

"The Cloud Roads has wildly original world-building, diverse and engaging characters, and a thrilling adventure plot. It's that rarest of fantasies: fresh and surprising, with a story that doesn't go where ten thousand others have gone before."—N. K. Jemisin, author of The Hundred Thousand Kingdoms

"Truly inventive and stunningly imaginative world building perfectly melded with vivid, engaging characters make the Books of the Raksura one of my all-time favorite science-fiction series."—Kate Elliott, author of the Crown of Stars series

"That rarity—a completely unique and stunning fantasy world."—Hugo Award-winning author Elizabeth Bear

"Martha Wells writes fantasy the way it was meant to be—poignant, evocative, and astonishing. Prepare to be captivated 'til the sun comes up."—Kameron Hurley, author of The Mirror Empire and God's War

"With these books Wells is writing at the top of her game, and given their breadth, originality, complexity, this series is showing indications it could become one of the landmark series of the genre."—Adventures Fantastic

"An imaginative world of engaging characters . . . the dramatic battles, tough decisions, and character dynamics shine through."—Publishers Weekly

"Martha Wells' Raksura books are dense, and complex, with truly amazing world building, and non-human characters who are quite genuinely alien, yet still comprehensible and sympathetic."—Kelly McCullough, author of the WebMage series and the Fallen Blade novels
 

Praise for The Cloud Roads and The Books of the Raksura
"Breathtakingly surprising and fun. Wells is a master worldbuilder."—The New York Times

"The Cloud Roads has wildly original world-building, diverse and engaging characters, and a thrilling adventure plot. It's that rarest of fantasies: fresh and surprising, with a story that doesn't go where ten thousand others have gone before."—N. K. Jemisin, author of The Hundred Thousand Kingdoms

"Truly inventive and stunningly imaginative world building perfectly melded with vivid, engaging characters make the Books of the Raksura one of my all-time favorite science-fiction series."—Kate Elliott, author of the Crown of Stars series

"That rarity—a completely unique and stunning fantasy world."—Hugo Award-winning author Elizabeth Bear

"Martha Wells writes fantasy the way it was meant to be—poignant, evocative, and astonishing. Prepare to be captivated 'til the sun comes up."—Kameron Hurley, author of The Mirror Empire and God's War

"With these books Wells is writing at the top of her game, and given their breadth, originality, complexity, this series is showing indications it could become one of the landmark series of the genre."—Adventures Fantastic

"An imaginative world of engaging characters . . . the dramatic battles, tough decisions, and character dynamics shine through."—Publishers Weekly

"Martha Wells' Raksura books are dense, and complex, with truly amazing world building, and non-human characters who are quite genuinely alien, yet still comprehensible and sympathetic."—Kelly McCullough, author of the WebMage series and the Fallen Blade novels