Seattle Stairway Walks: An Up-And-Down Guide to City Neighborhoods (Paperback)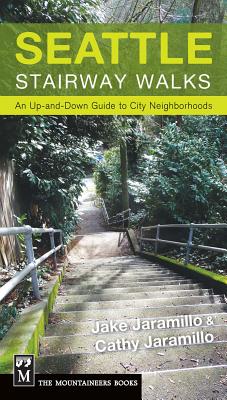 Description
---
* The only guidebook to stairway walks in Seattle
* Explore Seattle neighborhoods in a new way with these interesting walks in Seattle
* Written for people of all ages who want to get outside, exercise, and explore
Often called a "city of neighbor-hoods," Seattle is shaped by soaring mounds like Queen Anne and Capitol Hill and by indentations such as Ravenna Ravine and Deadhorse Canyon. Weaving together the hills, bluffs, and canyons are stairs -- lots and lots of stairs. In fact, there are over 600 publicly accessible Seattle stairways within the city limits And to explore Seattle by these stairs opens up stunning views and a whole new, intimate side of the Emerald City.
Seattle Stairway Walks: An Up-and-Down Guide to City Neighborhoods
is the city's first guidebook to 25 of the best neighborhood walks that feature public Seattle stairways. Each route description includes driving and public transit directions to the starting point, full-color photos, a detailed map, QR codes for saving abbreviated directions on your smart phone, tips on sections that are family-friendly, suggestions for cafes and pubs for that perfect espresso and sandwich en route, fascinating sidebars on Seattle's neighborhood history and community anecdotes, and much, much more.
Give Books for the Holidays 2023