The Teahouse Fire (Paperback)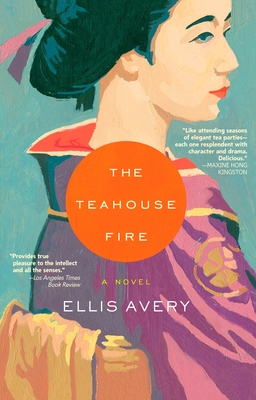 Description
---
"Like attending seasons of elegant tea parties—each one resplendent with character and drama. Delicious."—Maxine Hong Kingston

The story of two women whose lives intersect in late-nineteenth-century Japan, The Teahouse Fire is also a portrait of one of the most fascinating places and times in all of history—Japan as it opens its doors to the West. It was a period when wearing a different color kimono could make a political statement, when women stopped blackening their teeth to profess an allegiance to Western ideas, and when Japan's most mysterious rite—the tea ceremony—became not just a sacramental meal, but a ritual battlefield.

We see it all through the eyes of Aurelia, an American orphan adopted by the Shin family, proprietors of a tea ceremony school, after their daughter, Yukako, finds her hiding on their grounds. Aurelia becomes Yukako's closest companion, and they, the Shin family, and all of Japan face a time of great challenges and uncertainty. Told in an enchanting and unforgettable voice, The Teahouse Fire is a lively, provocative, and lushly detailed historical novel of epic scope and compulsive readability.
About the Author
---
Ellis Avery's first novel, The Teahouse Fire, set in the tea ceremony world of nineteenth-century Japan, has been translated into five languages and has won three awards, including the American Library Association Stonewall Award. Avery is also the author of The Smoke Week, an award-winning 9/11 memoir. She teaches fiction writing at Columbia University and lives in New York City.
 
Praise For…
---
"Provides true pleasure to the intellect and all the senses."
—Los Angeles Times Book Review

"Ellis Avery studied tea ceremony for several years, so it makes sense that the ritual dominates her first novel. She shares every subtlety of the ancient art...Attention to detail is admirable...Urako is a compelling character."
—Entertainment Weekly

"Saturated with color and detail; [Avery] manages to make nineteenth-century Japan both accessible and exotic, infusing her story with a sense of dignified calm...[A] deeply engrossing, multifaceted work."
—The Boston Globe

"A magisterial novel that is equal parts love story, imaginative history and bildungsroman, a story as alluring as it is powerful."
—Publishers Weekly (starred review)

"A memorable saga...Avery adroitly conveys the intricacies of the tea ceremony, 'the language of diplomacy,' and the subtle ways in which it was transformed as Japan moved from a Shogun society to one ruled by the emperor. At the same time, she illuminates vivid period details."
—Booklist

"Avery writes with a self-assured lyricism...Quite arresting...confident [and] original."
—Kirkus Reviews

"Readers who enjoy historical fiction will be dazzled by Avery's attention to detail, savoring her descriptions...Those who like plot twists will relish the epic cast of characters...An homage to Virgina Woolf's Orlando in both style and theme, Avery's ambitious andeavor is the perfect companion for a series of cold winter nights."
—Library Jounral

"In The Teahouse Fire, aesthetic rules vie with politics, sex, and human feeling. Avery has whipped up a heady brew."
—Liza Dalby, author of The Tale of Murasaki