Raw and Natural Nutrition for Dogs, Revised Edition: The Definitive Guide to Homemade Meals (Paperback)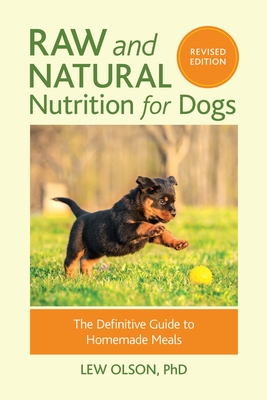 Description
---
The definitive guide to feeding your dog a balanced, nutritious, and home-cooked raw diet—from the founder of a natural pets product company with over thirty years of experience

Many people want to prepare their dog's meals at home, but feel it is too complex. Raw and Natural Nutrition for Dogs provides a road map to the essentials of canine nutrition, written in easy-to-understand language.

Pet owners seeking to give their dogs a better coat, better skin, and healthier teeth and gums, as well as longer lives and more stable temperaments, will benefit not only from the background data in this book, but also the step-by-step instructions and recipes for preparing these diets. The book includes charts with the recipes, instructions on keeping diets simple and balanced, guidelines on preparation, suggestions for finding ingredients, and how much to feed a dog by body weight. There are recipes for healthy adult dogs, as well as guidelines for puppies, senior dogs, and dogs with health conditions including pancreatitis, renal problems, gastric issues, allergies, heart disease, liver disease, and cancer.

Tracing the history of feeding dogs, the author shows when commercial dog food rose and took hold of the market. She discusses canine nutritional needs and provides research on how home-prepared foods can meet pets' needs better than commercial, processed dog food. Written with thorough information for the seasoned raw feeder, this guide can also be easily followed by any newcomer to home-feeding.

This revised edition includes new information on special care and feeding of pregnant, newborn, performance, and toy breed dogs as well as senior dog considerations and the safety of the raw food diet for dogs.
About the Author
---
Lew Olson, LMSW, PhD, has been active in the sport of dogs since 1974. She has shown dogs in both performance and conformation events and is currently an American Kennel Club (AKC) and United Kennel Club (UKC) dog show judge. Olson holds a master's degree in social work and a doctorate in natural health. As a graduate student, she worked as a research assistant and continues to research and author articles on dog health and nutrition, with articles in numerous dog publications, including the Total Rottweiler, the Rottweiler Quarterly, Mein Hund, AKC Gazette Breed Column, and numerous dog newsletters. She has given many seminars on "Feeding Your Dog a Fresh Food Diet" and releases a monthly newsletter, with over 8,000 subscribers, via the B-Naturals website. She also runs the K9Nutrition Yahoo! group and is active on Facebook, where she assists members with questions concerning dog nutrition and health.