The Essential Book of Fermentation: Great Taste and Good Health with Probiotic Foods (Paperback)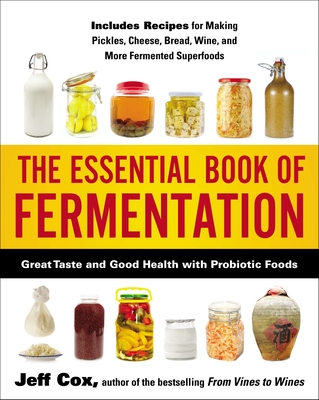 Description
---
The country's leading expert on organic food delivers the ultimate guide to the new culinary health movement—feasting on fermented probiotics, from artisanal cheese to kimchi.
In his extensive career as a bestselling cookbook author and TV garden-show host, Jeff Cox has always been keenly aware of the microbiology that helps his garden flourish. He has long known that microbes keep our bodies healthy as they ferment food, releasing their nutritional power and creating essential vitamins and enzymes. In The Essential Book of Fermentation, Cox shares a bounty of recipes for nourishing the internal "garden."
Simplifying the art and science of fermentation, Cox offers a primer on the body's microbial ecosystem, complemented by scrumptious recipes, and easy-to-follow pickling and canning techniques. Basics such as bread and yogurt help readers progress to wine, cheese, and a host of international delicacies, including kim chi and chow chow. Inspiring and innovative, The Essential Book of Fermentation serves up great taste along with great health on every page.
About the Author
---
Jeff Cox is the author of twenty books, has hosted two TV series, and was managing editor of Organic Gardening magazine for more than a decade. He lives in Sonoma County, California.
Upcoming Events
No upcoming events available