On the Bright Side: The New Secret Diary of Hendrik Groen, 85 Years Old (Paperback)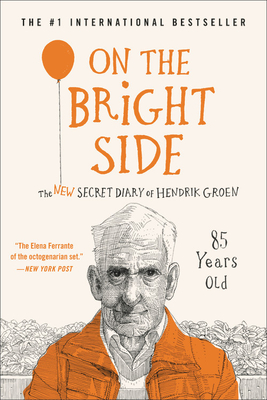 Other Books in Series
This is book number 2 in the Hendrik Groen series.
Description
---
"THE MALE ELENA FERRANTE" -- New York Post
In the acclaimed follow-up to the #1 international bestseller The Secret Diary of Hendrik Groen, everyone's favorite curmudgeon is back and as funny and charming as ever with the newest adventures of the Old-But-Not-Dead Club -- for fans of Frederik Backman and Graeme Simsion.
Everyone's favorite octogenarian is back and, together with his pals in the Old-But-Not-Dead Club, he is more determined than ever to wreak havoc and turn a twinkly eye on the brighter side of life.
After a year spent mourning the death of his beloved friend Eefje, Hendrik may be older and a little more wobbly, but his youthful appetite for mischief hasn't diminished. When fears arise that the home is set for demolition, it's up to Hendrik and the Old-But-Not-Dead Club to intervene.

About the Author
---
Hendrik Groen started his pseudonymous diary on the literary website of Torpedo Magazine. He says about his first novel: "There's not one sentence that's a lie, but not every word is true." The Secret Diary of Hendrik Groen has been translated into over twenty languages.
Praise For…
---
"You might say he's the Elena Ferrante of the octogenarian set - though whether or not he is actually an octogenarian (or a man) is also anyone's guess...It's an appealing novel with a lot of heart, reminding readers young and old that fun is to be found even in the routine of everyday life. And of course, the possibility that it's more memoir than fiction is delightful."—New York Post

"Humorous...A realistic and perceptive glimpse into the aging process, shaped by empathy, optimism, and vibrant wit."—Booklist

"I laughed until I cried and then laughed and cried some more."—David Suchet

"Highly entertaining...Wise and witty, his musings are thought-provoking and relevant to everyone regardless of age, and his delightful and charming personality will win over readers everywhere....ON THE BRIGHT SIDE is the diary of an extraordinary man who lives an ordinary life. He makes an impact on almost everyone he meets, and seeks to understand the crazy world in which he resides. His clever commentary and madcap adventures will leave a long-term impression ... Hendrik Groen is an unforgettable and absolutely spectacular character who readers will wish they could befriend."—p.p1 {margin: 0.0px 0.0px 0.0px 0.0px; line-height: 18.0px; font: 16.0px Times; color: #000000; background-color: #ffffff}span.s1 {font-kerning: none}Book Reporter

"Delightful...Groen strikes just the right note here with his wit and ironic observations...So warm, touching, and funny that you don't have to be a member of the Old But Not Dead Club to enjoy it."—p.p1 {margin: 0.0px 0.0px 0.0px 0.0px; font: 12.0px 'Times New Roman'}Library Journal

"A worthy read...Darkly funny...thought-provoking, moving and so pertinent to our times....Hendrik and some of his fellow residents form a delightfully rebellious "Old But Not Dead Club [and] the group's joie de vivre is contagious...Their friendships are likely to make you chuckle as well as move you to tears."—p.p1 {margin: 0.0px 0.0px 0.0px 0.0px; line-height: 18.0px; font: 12.0px 'Times New Roman'; color: #000000}span.s1 {font-kerning: none}Winnipeg Free Press

"Thoughtful, entertaining, and wise. Long may he live."—Lisa Jewell, p.p1 {margin: 0.0px 0.0px 0.0px 0.0px; font: 12.0px 'Times New Roman'}span.s1 {font-kerning: none}Minneapolis Star Tribune

"Another amusing, enjoyable, and eye-opening read...Hendrik's bluntness is just a part of his memorable voice and the book's undeniable charm....With its dry wit and its random observations, On the Bright Side is alternately quirky and profound. It's more than just an entertaining read; it's sure to give you a new love and respect for octogenarians."—p.p1 {margin: 0.0px 0.0px 0.0px 0.0px; font: 12.0px 'Times New Roman'}Nights and Weekends

PRAISE FOR THE SECRET DIARY OF HENDRIK GROEN:
"Amusing [and] wickedly accurate...Reading The Secret Diary, I was constantly put in mind of Ken Kesey's madhouse tale One Flew Over The Cuckoo's Nest, another comi-tragedy concerning the tyranny of institutions of the unwanted. Enjoy Groen's light touch but do not be fooled by it....The Secret Diary is a handbook of resistance for our time."—The Express (UK)

"Funny and frank - a story with a great deal of heart."
—Graeme Simsion, New York Times bestselling author of The Rosie Project

"A story about how friendship, selflessness and dignity lie at the heart of the human experience. When I'm an old man, I want to be Hendrik Groen."—John Boyne, internationally bestselling author of The Boy in the Striped Pyjamas

"Funny, tragic, and sometimes heart-rending."—Het Parool (Holland)

"Hendrik Groen is king. My mother, 78, suffers from dementia. Doesn't read a newspaper or magazine anymore, only old photo albums can grab her attention for longer than 5 minutes. Hendrik made her laugh out loud and she was reading for a good half hour."—Ray Kluun, author of Love Life

"Hendrik Groen is a heart-warming hero."—Trouw (Holland)

"With pungent phrasing Groen takes down life in a retirement home. Both charming and hilarious. Four stars!"—Leeuwarder Courant (Holland)

"Groen's day-to-day worries in a retirement home are just as hilarious as the diaries of Adrian Mole."
—Debut of the Month in Zin Magazine

"Tears were streaming down my face-from laughing so hard. I couldn't stop grinning for three days."—Ouderenjournaal (Holland)

"Never a dull moment with my new BFF Hendrik Groen."—Read Shop, Hedel (bookseller)

"It reminded me of a combination between The Hundred-Year-Old Man Who Climbed Out of the Window and Disappeared and One Flew Over the Cuckoo's Nest. Wonderful! Shame it's finished already."—Arjen Broers, Bookshop Bruna (bookseller)

"Heart-warming, funny and poignant. It's about all aspects of life. EVERYBODY should read this."—Bookshop Stevens (Bookseller)

"An incredible picture of friendship... something we could all stand to emulate, no matter where we are in our lives."—Bookpage, Top Fiction Pick for July

"Interspersed with Groen's biting wit and comic take on aging and all it entails... A page-turning delight for adult readers of any age and locale."—Booklist, starred review

"Poignant and true-to-life, an international bestseller."—Minneapolis Star Tribune

"Engaging and hilarious, Hendrik's diary gives a dignity and respect to the elderly often overlooked in popular culture, providing readers a look into the importance of friendship and the realities of the senior care system in modern society."—Publisher's Weekly