Paperfold Wild Animals: 10 Amazing Punch-Out-and-Fold Paper Creatures (Paperback)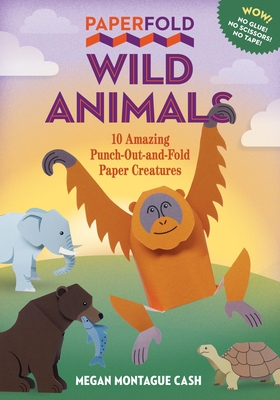 Description
---
Welcome to the magic of paperfolding—from flat pieces of paper to 3D creatures, find a new creative outlet with no scissors or glue required!

Ingeniously designed using interlocking tabs and only two simple types of folds, Paperfold Wild Animals is a new kind of paper craft that's fun and mess-free for kids 7+. Punch out and construct ten amazing models of animals from around the world: a wolf in mid-howl, a bear about to enjoy the fresh salmon it just caught, an ibex with its horns down and ready to charge, and more.

Every animal comes with a set of surprising facts too. Did you know that a tortoise can live to be 150 years old and is able to recognize human features? Or that kangaroos are good swimmers? Or that a lion's roar can be heard from 5 miles away?
About the Author
---
Megan Montague Cash's favorite things include animals, paper, color, design, and learning. She has been folding paper animals since she can remember and is excited to share this passion with you.
Megan was encouraged by her artist parents to make things with her hands. Today she is an illustrator, author, and designer with a focus on work for children. She has created folded paper projects for Nickelodeon and the Museum of Modern Art. Her books include What Makes the Seasons? and the Bow-Wow series. Her work has won numerous awards and has been translated into museum exhibits, curricula, and different languages.

Megan graduated from Pratt Institute in Brooklyn, where she now teaches a specialized course in designing for children.