Haiku History: The American Saga Three Lines at a Time (Hardcover)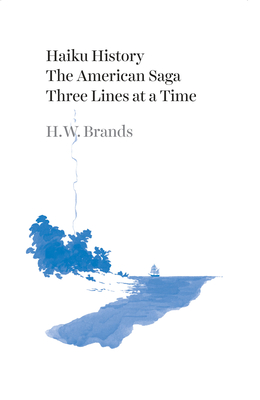 Description
---
For the past nine years, acclaimed historian H. W. Brands has been tweeting the history of the United States. But this has been no ordinary version of the American tale. Instead, Brands gives his 5,000-plus followers a regular dose of history and poetry combined: his tweets are in the form of haiku.
Haiku History presents a selection of these smart, shrewd, and always informative short poems. "Shivers and specters / Flit over souls in Salem / As nineteen are hanged; describes the Salem witch trials, and "In angry war paint / Men board three Indiamen / And toss the cargo" depicts the Boston Tea Party. "Then an anarchist / Makes one of the war heroes / The next president" recalls the assassination of William McKinley and the accession of Teddy Roosevelt to the presidency, while "Second invasion: / Iraq, where Saddam is still / In troubling control" returns us to the invasion of Iraq in 2003. As he travels from the thirteen colonies to the 2016 election, Brands brings to life the wars, economic crises, social upheavals, and other events that have shaped our nation. A history book like no other, Haiku History injects both fun and poetry into the story of America—three lines at a time.
About the Author
---
H. W. Brands is the Jack S. Blanton Sr. Chair in History at the University of Texas at Austin. He writes about American history and politics, with books including Traitor to His Class: The Privileged Life and Radical Presidency of Franklin Delano Roosevelt; Andrew Jackson; The Age of Gold; The First American: The Life and Times of Benjamin Franklin; and TR. Several of his books have been best sellers; Traitor to His Class and The First American were finalists for the Pulitzer Prize. Brands lectures frequently on historical and current events and appears on national and international television and radio programs.