The Library Book (Paperback)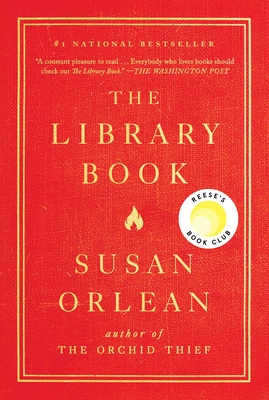 November 2018 Indie Next List
---
"There is no one better at investigating the fascinating stories hiding in plain sight than Susan Orlean. The vivid descriptions of the fire that engulfed the Los Angeles Central Library in 1986 are burnished by the meticulous research she did on the history of libraries and on the shocking event that resulted in the destruction and damage of over one million books. The mystery of who would start such a fire is woven between stories of eccentric librarians and the transformation of Los Angeles in the 20th century. From memories of the blissful hours spent in the library of her youth to the historical significance of these repositories of our past, Orlean has crafted a love letter to the importance of the written word and those who devote their lives to its preservation."
— Luisa Smith, Book Passage, Corte Madera, CA
Description
---
Susan Orlean's bestseller and New York Times Notable Book is "a sheer delight…as rich in insight and as varied as the treasures contained on the shelves in any local library" (USA TODAY)—a dazzling love letter to a beloved institution and an investigation into one of its greatest mysteries. "Everybody who loves books should check out The Library Book" (The Washington Post).

On the morning of April 28, 1986, a fire alarm sounded in the Los Angeles Public Library. The fire was disastrous: it reached two thousand degrees and burned for more than seven hours. By the time it was extinguished, it had consumed four hundred thousand books and damaged seven hundred thousand more. Investigators descended on the scene, but more than thirty years later, the mystery remains: Did someone purposefully set fire to the library—and if so, who?

Weaving her lifelong love of books and reading into an investigation of the fire, award-winning New Yorker reporter and New York Times bestselling author Susan Orlean delivers a "delightful…reflection on the past, present, and future of libraries in America" (New York magazine) that manages to tell the broader story of libraries and librarians in a way that has never been done before.

In the "exquisitely written, consistently entertaining" (The New York Times) The Library Book, Orlean chronicles the LAPL fire and its aftermath to showcase the larger, crucial role that libraries play in our lives; delves into the evolution of libraries; brings each department of the library to vivid life; studies arson and attempts to burn a copy of a book herself; and reexamines the case of Harry Peak, the blond-haired actor long suspected of setting fire to the LAPL more than thirty years ago.

"A book lover's dream…an ambitiously researched, elegantly written book that serves as a portal into a place of history, drama, culture, and stories" (Star Tribune, Minneapolis), Susan Orlean's thrilling journey through the stacks reveals how these beloved institutions provide much more than just books—and why they remain an essential part of the heart, mind, and soul of our country.
About the Author
---
Susan Orlean has been a staff writer at The New Yorker since 1992. She is the New York Times bestselling author of seven books, including The Library Book, Rin Tin Tin, Saturday Night, and The Orchid Thief, which was made into the Academy Award–winning film Adaptation. She lives with her family and her animals in Los Angeles and may be reached at SusanOrlean.com and on Twitter @SusanOrlean.
Praise For…
---
"Moving . . . A constant pleasure to read . . . Everybody who loves books should check out The Library Book. . . . Orlean, a longtime New Yorker writer, has been captivating us with human stories for decades, and her latest book is a wide-ranging, deeply personal, and terrifically engaging investigation of humanity's bulwark against oblivion: the library. . . . As a narrator, Orlean moves like fire herself, with a pyrotechnic style that smolders for a time over some ancient bibliographic tragedy, leaps to the latest technique in book restoration, and then illuminates the story of a wildly eccentric librarian. Along the way, we learn how libraries have evolved, responded to depressions and wars, and generally thrived despite a constant struggle for funds. Over the holidays, every booklover in America is going to give or get this book. . . . You can't help but finish The Library Book and feel grateful that these marvelous places belong to us all."
—Ron Charles, The Washington Post

"A sheer delight. . . . Orlean has created a book as rich in insight and as varied as the treasures contained on the shelves in any local library."
—Chris Woodyard, USA Today

"Exquisitely written, consistently entertaining . . . A loving tribute not just to a place or an institution but to an idea . . . What makes The Library Book so enjoyable is the sense of discovery that propels it, the buoyancy when Orlean is surprised or moved by what she finds. . . . Her depiction of the Central Library fire on April 29, 1986, is so rich with specifics that it's like a blast of heat erupting from the page. . . . The Library Book is about the fire and the mystery of how it started—but in some ways that's the least of it. It's also a history of libraries, and of a particular library, as well as the personal story of Orlean and her mother, who was losing her memory to dementia while Orlean was retrieving her own memories by writing this book."
—Jennifer Szalai, The New York Times

"Captivating . . . A delightful love letter to public libraries . . . In telling the story of this one library, Orlean reminds readers of the spirit of them all, their mission to welcome and equalize and inform, the wonderful depths and potential that they—and maybe all of us, as well—contain. . . . In other hands the book would have been a notebook dump, packed with random facts that weren't germane but felt too hard-won or remarkable to omit. Orlean's lapidary skills include both unearthing the data and carving a storyline out of the sprawl, piling up such copious and relevant details that I wondered how many mountains of research she discarded for each page of jewels."
—Rebekah Denn, Christian Science Monitor

"A flitting and meandering masterpiece . . . Compelling and undeniably riveting . . . This is a joyful book, and among its many pleasures is the reader's ability to palpate the author's thrill as she zooms down from stratospheric viewings of history, to viscerally detailed observations of events and people, and finally to the kind of irresistibly offbeat facts that create an equally irresistible portrait of the author herself."
—J. C. Hallman, San Francisco Chronicle

"Vivid . . . Compelling . . . Ms. Orlean interweaves a memoir of her life in books, a whodunit, a history of Los Angeles, and a meditation on the rise and fall and rise of civic life in the United States. . . . By turns taut and sinuous, intimate and epic, Ms. Orlean's account evokes the rhythms of a life spent in libraries . . . bringing to life a place and an institution that represents the very best of America: capacious, chaotic, tolerant and even hopeful, with faith in mobility of every kind, even, or perhaps especially, in the face of adversity."
—Jane Kamenski, The Wall Street Journal

"A lovely book . . . Susan Orlean has once again found rich material where no one else has bothered to look for it. . . . Once again, she's demonstrated that the feelings of a writer, if that writer is sufficiently talented and her feelings sufficiently strong, can supply her own drama. You really never know how seriously interesting a subject might be until such a person takes a serious interest in it."
—Michael Lewis, New York Times Book Review

"A book lover's dream . . . This is an ambitiously researched, elegantly written book that serves as a portal into a place of history, drama, culture, and stories."
—Jeffrey Ann Goudie, Minneapolis Star Tribune

"When Susan Orlean fishes for a story, she reels in a hidden world. And so the latest delightful trawl from the author of Rin Tin Tin and The Orchid Thief starts with the tale of the 1986 fire that damaged or destroyed 700,000 books in the Los Angeles Central Library. But The Library Book pans out quickly to the fractious, eccentric history of the institution and then, almost inevitably, a reflection on the past, present, and future of libraries in America. Orlean follows the narrative in all directions, juxtaposing the hunt for the library arsonist—possibly a frustrated actor—with a philosophical treatise on why and how libraries became the closest thing many of us experience to a town hall."
—Hillary Kelly, New York Magazine

"Like an amble through the rooms and the stacks of a library, where something unexpected and interesting can be discovered on any page."
—Scott Simon, NPR's Weekend Edition

"Mesmerizing . . . A riveting mix of true crime, history, biography, and immersion journalism. . . . Probing, prismatic, witty, dramatic, and deeply appreciative, Orlean's chronicle celebrates libraries as sanctuaries, community centers, and open universities run by people of commitment, compassion, creativity, and resilience."
—Booklist (starred review)

"Engaging . . . Bibliophiles will love this fact-filled, bookish journey."
—Kirkus Reviews

"Of course, I will always read anything that Susan Orlean writes—and I would encourage you to do the same, regardless of the topic, because she's always brilliant. But The Library Book is a particularly beautiful and soul-expanding book—even by Orleanean standards. You're going to hear a lot about how important this story is, for shining a spotlight on libraries and the heroic people who run them. That's all true, but there's an even better reason to read it—because it will keep you spellbound from first page to last. Don't miss out on this one, people!" —Elizabeth Gilbert, author of Eat Pray Love and Big Magic

"This is a book only Susan Orlean could have written. Somehow she manages to transform the story of a library fire into the story of literacy, civil service, municipal infighting and vision, public spaces in an era of increasingly privatization and social isolation, the transformation of Los Angeles from small provincial hamlet to innovative collossus and model of civic engagement—and the central role libraries have always and will always play in the life and health of a bustling democracy. Beyond all that, like any good library, it's bursting with incredible tales and characters. There could be no better book for the bookish."
—Dave Eggers, author of The Circle and The Monk of Mokha

"Susan Orlean has long been one of our finest storytellers, and she proves it again with The Library Book. A beautifully written and richly reported account, it sheds new light on a thirty-year-old mystery—and, what's more, offers a moving tribute to the invaluableness of libraries."
—David Grann, author of Killers of the Flower Moon and The Lost City of Z

"After reading Susan Orlean's The Library Book, I'm quite sure I'll never look at libraries, or librarians, the same way again. This is classic Orlean—an exploration of a devastating fire becomes a journey through a world of infinite richness, populated with unexpected characters doing unexpected things, with unexpected passion."
—Erik Larson, author of The Devil in the White City, In the Garden of Beasts, and Dead Wake
Give Books for the Holidays 2023