Earthly Delights (Corinna Chapman Mysteries) (Paperback)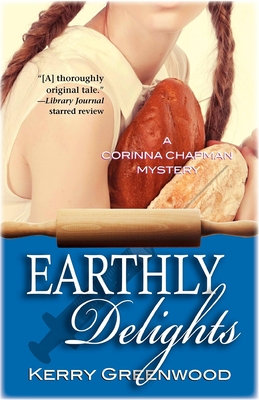 Other Books in Series
This is book number 1 in the Corinna Chapman Mysteries series.
Description
---
"Put on the coffee pot, whip up a batch of muffins (yes, two recipes are included), and enjoy this thoroughly original tale. Strongly recommended for fans of offbeat mysteries." —Library Journal STARRED review
One day, Corinna Chapman, high profile accountant and banker, walked out on the money market and her dismissive and unpleasant husband James, threw aside her briefcase, and doffed her kitten heels forever. Now she is a baker with her own business, Earthly Delights, in Melbourne, Australia, living in an eccentric building on the Roman model called Insula with a lot of similarly eccentric people.
She and her cat Horatio are quite content with this new life until a junkie falls half dead on her grate, a gorgeous sabra stalks along her alley telling her that she is beautiful, and threatening letters accusing her of being a scarlet woman begin to arrive. Then suddenly Goths, lost girls, fraud, late nights, nerds, and beautiful slaves complicate life for Corinna. And she still needs to get her bread out for the morning rush....
About the Author
---
Kerry Greenwood was born in the Melbourne suburb of Footscray and after wandering far and wide, she returned to live there. She has degrees in English and Law from Melbourne University and was admitted to the legal profession on the 1st April 1982, a day which she finds both soothing and significant. Kerry has written three series, a number of plays, including The Troubadours with Stephen D'Arcy, is an award-winning children's writer and has edited and contributed to several anthologies. The Phryne Fisher series (pronounced Fry-knee, to rhyme with briny) began in 1989 with Cocaine Blues which was a great success. Kerry has written twenty books in this series with no sign yet of Miss Fisher hanging up her pearl-handled pistol. Kerry says that as long as people want to read them, she can keep writing them. In 2003 Kerry won the Lifetime Achievement Award from the Australian Association.